Fashion event attempts to show Pakistan's progressive side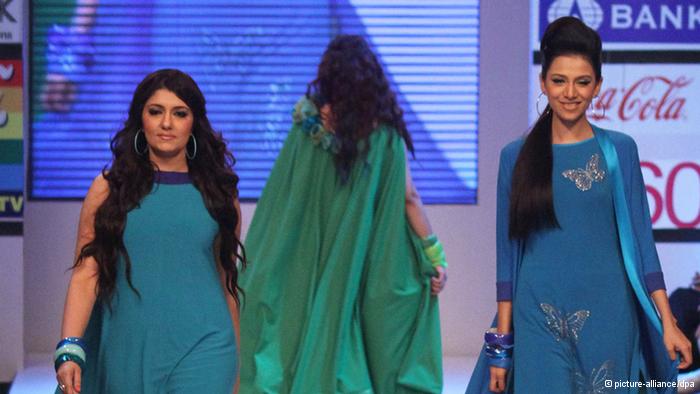 Pakistani liberals insist their country is not just about bearded extremists and suicide bombers. The recent fashion week in Karachi, they say, is a good example of Pakistan's progressive outlook.
Of late, fashion weeks have become a regular feature in Pakistan. The most recent one was the Fashion Pakistan Week, which showcased works of Pakistan's most celebrated fashion designers from April 7-10. The event took place in Karachi, a city which normally gets negative publicity for its ethnic and sectarian violence.
The fashion industry in Pakistan is still in a fledgling phase in comparison to India, whose fashion designers have made it big in the West. However, Pakistani designers say theirs is a very difficult task in a country struggling with issues of terrorism, religious fundamentalism and militancy.
Image-making
Warda Saleem, one of the designers who participated in the Fashion Pakistan Week, told DW that events such as the
Fashion Pakistan Week were making the world realize that Pakistan was not just about fanaticism.
"Unfortunately, all the bad things about Pakistan are being highlighted (in the media)," said Saleem, adding that "these kinds of fashion weeks really help in showing to the world that Pakistan is a country with a lot of fashion and is rich in craft."
Iram Muzaffar, editor of You, The News' women's magazine, said the fashion event was important for Pakistan's image.
"There is a positive side to Pakistan as well. Through these fashion weeks we can build a softer image of our country," Muzaffar told DW. "Take the example of India. It has been able to project a liberal image through its movies and media."
An elite affair?
Many people in Pakistan think of designer fashion as something reserved for the privileged elite. Muzaffar was of the opinion that fashion all over the world was about the upper classes.
"Fashion is for the rich, who can afford it, who appreciate good taste, who can buy expensive designer clothes. There are no two opinions about it. Like art and music, fashion too is for people who have a refined taste," said Muzaffar.
But fashion journalist Mohsin Sayeed said that image was wrong, as the Pakistani fashion industry made use of local culture and art.
"It reflects the whole of Pakistani society because when fashion designers prepare their collections, they rely on cultural traditions and craft," Sayeed told DW.
"For example, what Warda Saleem showcased on the third day of the Fashion Pakistan Week was an inspiration from the culture of Sindh. She infused the ancient craft of block-printing and handmade cut-work with textile traditions in a very bohemian way with an international appeal."
He was hopeful this kind of promotion of art and culture could make Pakistan a more tolerant and progressive place.
"It has a trickle-down effect," said Sayeed. "It comes through media then it goes to all levels of society and people start adopting these fashion trends and express them in their own way."
One fashion week for "ten bombings"
The fashion industry has often been the subject of criticism by the conservative sections of Pakistani society. Religious groups usually accuse fashion designers and models of promoting "Western culture," which they say should not be allowed in an Islamic state. There have been instances of right-wing groups blackening the billboards and advertisements displaying pictures of female models. They even go as far as to make public threats to members of the fashion industry.
But despite threats from extremists, Sayeed said he did not feel intimidated.
"It is not just extremist groups; even conservative sections of society oppose fashion. There is a group which is against using women models for promoting clothes. But do we feel threatened? No. The fashion industry in Pakistan took off in General Zia's (Pakistan's Islamist military dictator of the 1980s) era. If we could survive Zia's era, we can survive against these people as well," said Sayeed.
Fatima Niazi, a student, who also works for The News, was of the opinion that things were not as simple as most fashion journalists and designers liked to depict. She told DW that she felt "suffocated" as a young female journalist in a conservative society. "There are too many restrictions on the way you talk, on what you wear, when you go around interviewing people," Niazi said.
Niazi believed fashion shows would never be enough to change the reality of Pakistan.
"One fashion week and then perhaps ten bomb blasts after that; I think things will remain the same," said Niazi.
Author: Shamil Shams
Editor: Sarah Berning