Women in the news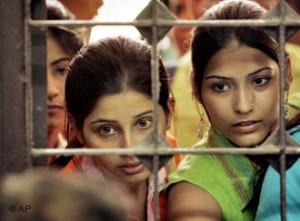 Who made it to the headlines this week and which women's issues got the media's attention? Read on for more.
Sri Lankan peace negotiator calls for greater women's involvement
Visaka Dharmadasa is at the United Nations in New York this week calling for greater involvement for women in peacekeeping and politics. She was a key negotiator helping to end the Sri Lankan conflict but her life changed 15 years ago when her son went missing in action fighting the Tamil separatists in Sri Lanka. Visaka Dharmadasa says that while the nearly 30 year war in her country is over, there still is no peace. Listen to the interview here.
Women locked inside on Holi
In yet another act reminding of medieval age and Taliban-like treatment of women, authorities at Punjabi University, Patiala, had locked entrances of all six girls' hostels on Holi, citing that opening of gates on the day of festival of colours could lead to 'nuisance' in the campus.
Women in Nepal
The Maoist party and Hisila Yami, through her various writings while underground (as Comrade Parvati, have made an enormous impact on the women's movement and women's rights in Nepal. Read more here.
Elections in Afghanistan
Afghan women were granted the right to vote in the constitution adopted after the U.S.-led coalition toppled the Taliban regime in late 2001. Under the Taliban, women were also banned from school and forced to wear the all-encompassing burqa. Read more here.
Pakistani actress Meera is in trouble
A sessions court on Tuesday issued an arrest warrant for film actor Meera for her failure to appear in court despite summons issued over a plea seeking registration of a criminal case on charges of filming a 'controversial video clip' and uploading it on social media, DawnNews reported.