The revenge trap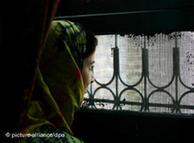 "Soon after drinking my tea, I felt dizzy and dozed off. The next thing I remember is that I was sitting in a police station. They told me, I was drunk and had desecrated the Holy Book, Quran. I was surrounded by a violent mob and people belonging to religious parties were condemning me. No one was listening to my cries. All they wanted was punishment for a crime that I had never committed."This is the story of Waliha, 22, who is behind bars in Lahore's Central Jail since 2012. She is waiting for justice, seldom possible in Pakistan as far as accusations of blasphemy are concerned.
Waliha recounts, "I was told that police arrested me at 5 o'clock in the morning when Samia, a friend of mine, began screaming outside my house, saying she had witnessed me drunkenly disrespecting the Quran and tearing off its pages. Another friend also claimed to have witnessed the incident. A security guard named Abdul Manan, who got a crowd together after hearing Samia's accusations, also started blaming me. A Fist Information Report (FIR) was lodged against me, accusing me of blasphemy for defiling the Quran. I was thrown behind bars."
An excuse to settle personal scores
According to Pakistan's Criminal Code, blasphemy includes damaging or defiling a place of worship or a sacred object, outraging religious feelings, defiling the Quran and defaming the prophet Muhammad and so on, but in order to be punished, one needs to prove that the accused intentionally committed the crime. Human rights groups have alleged that blasphemy laws are often misused to settle personal scores and grudges against both Muslims and non-Muslims. According to Waliha, the same happened to her.
"It all started when a friend of mine, Samia Khan, who was living in a hostel asked if she could move in with me for a couple of weeks. She was my friend, so I was more than happy to help her out. A few days later, there was a burglary at my house and all clues lead to my so-called friend. After a fierce argument, I beat her, blind with rage, and threw her out of my house. But the feeling of betrayal was driving me mad. I was so enraged that when Samia's boyfriend came to meet her, I told him everything. This became the reason for their breakup. That was the last blow for Samia and the beginning of my unfortunate life. A few days after the incident, Samia and another friend of mine approached me and asked for forgiveness. We meet at a restaurant, had dinner together and tried to diffuse our bad feelings toward each other. We were having a good time and then I was offered tea by Samia, who drafted the whole blasphemy allegation plan."
Young Waliha is among a number of people who are accused of blasphemy and are waiting for their fate behind bars. An estimated 1,300 people have been accused of blasphemy since 1986, according to the human rights unit of the Law Ministry of Pakistan. Often the accused do not even make it to court. At least 52 people accused of blasphemy have been lynched since 1990, according to a 2012 report from the Islamabad-based think tank, Centre for Research and Security Studies.
Waliha needs help
According to Blasphemy laws whoever wilfully defiles, damages or desecrates a copy of the Holy Quran or of an extract there from or uses it in any derogatory manner for any unlawful purpose shall be punishable with imprisonment for life, and that is what Waliha can face if her case is not properly pursued.
Waliha is unable to get a competent legal representative for her case, either because of threats to such lawyers or the huge fees demanded by renowned advoates, which her family can not afford. At the moment, she has no legal counsel for her case. Her decision is pending since the last 24 months and her case is on trial in the sessions court. Her bail has been rejected twice.
She is also facing health problems. She says, "Sitting in my dark cell, I am not only mentally and emotionally exhausted, I am also suffering from medical problems like pain in my spinal cord, kidneys and gastritis. I am also going through mood disorders that need drug treatment and psychotherapy."
Waliha is looking for a help of any kind from anybody, a person, organization or government to get out of this situation. Please send your Email to womentalk@dw.de for more details and information regarding Waliha's case.
Author: Unbreen Fatima
Editor: Manasi Gopalakrishnan