Malala under online attack for Nobel Peace Prize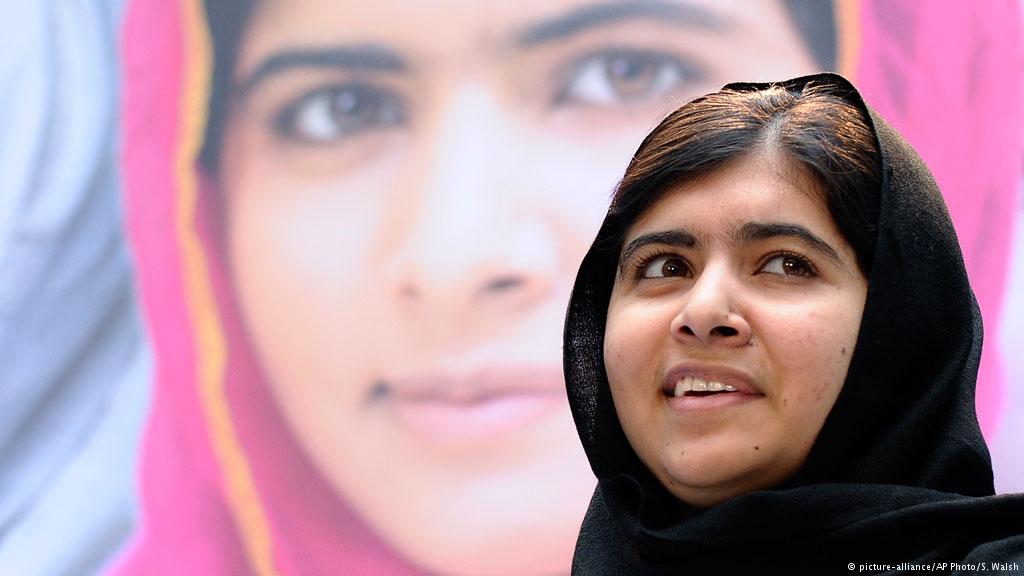 Pakistani teen Malala Yusufzai and Indian Kailash Satyarthi have jointly won the 2014 Nobel Peace Prize, but unfortunately for Malala, the decision by the Norwegian Nobel Committee sparked a smear campaign against her on social media.
Malala and Kailash have been awarded the Nobel Peace Prize for their struggle against the suppression of children and young people and for the right of all children to education. However, this has not satisfied everyone. A large number of Twitter and Facebook users, especially from Pakistan and Bangladesh, have criticized the Nobel committee for the decision announced last Friday.
Smear campaign against Malala
Some online users believe Malala has done nothing to achieve the Nobel Peace Prize. Islamabad-based Twitter user Kamil Khan Marwat Friday tweeted, "Just tell me one thing, how exactly did Malala Yousafzai helped girl's education in Pakistan? At least I'm unaware of any such development."
Some other Twitter users have tweeted similar comments:
The next Nobel Peace Prize should go to my sister's cat, she hasn't done anything for #Pakistan either.. #MalalaYousafzai

— Baby Bhutto (@BabyBhutto) October 10, 2014
What exactly has #Malala done to deserve a #nobelprize2014. No respect for NorwegianNobelCommittee for not recognizing Edhi Sbs contribution

— Anam J. Cheema (@AnamCheema_) October 10, 2014
The Nobel Committee said Malala was awarded the prize for her struggle against the suppression of children and young people. According to the press release, "Despite her youth, Malala Yousafzai has already fought for several years for the right of girls to education, and has shown by example that children and young people, too, can contribute to improving their own situations."
BREAKING NEWS: The #nobelprize2014 in Peace is awarded to Indian Kailash Satyarthi and Pakistani Malala Yousafzay pic.twitter.com/W1K0rh9An6

— The Nobel Prize (@NobelPrize) October 10, 2014
What a pity. Our daughter #Malala is a symbol of Education around the world. But education campaigns in Pakistan don't acknowledge her.

— Marvi Sirmed (@marvisirmed) October 11, 2014
However, a few other Twitter users noted that Malala was silent during the Israeli air strikes on Gaza this year. Dawn newspaper's review writer Farhana tweeted, ''Malala Yousafzai don't know if u deserve Nobel Peace Prize or not. But I remember u didn't stand up 4 the children dying in Gaza. Was disappointing!''
Some Bangladeshi Facebook users have claimed that the Western world supports those who serve their purpose, and Malala is one of them. Few of them even strongly believe that the US decides who will win the Nobel Prize. They seem ignorant to the fact that the Nobel Peace Prize has been given to Malala by the Norwegian Nobel Committee, not the US.
Was Malala really shot at by the Taliban?
Malala's age has grabbed the attention of a few Twitter users. She is 17 years old now. The Nobel Committee could have waited a few more years to award her the Prize, at least a few Bangladeshi Facebook users seem to think this way. Others assume being shot can't be the basis of winning a Nobel Prize. Few in Pakistan and Bangladesh don't even believe that the Taliban attacked Malala in 2012. They think, Malala deserves an award for acting, not for her work of promoting girls' education.
#Malala wins the #oscar for best acting sorry I mean to say #NobelPeacePrize.

— Arsalan.S Khan (@Engg_AKhan) October 12, 2014
#malala you should get oscar ..ur acting is great

— Syed Jibran Kazmi (@SyedJibranKazmi) October 11, 2014
Not everyone is against Malala

Karachi-based journalist Ali Kamran Chishti wrote on Twitter, '"We hate all our Nobel Prize winners: Abdus Salam and Malala. There must be something wrong with us as a nation."  Pakistani Prime Minister Nawaz Sharif has congratulated Malala for winning the Nobel Peace Prize and called her the "Pride of Pakistan."
However, New York based digital producer Traci Lee notes on Twitter, '"Pakistan PM calls Malala the 'pride of Pakistan.' (Note: Malala still can't return to Pakistan)."
Pakistan has only two Nobel Prize Winners : Abdus Salam, who won the award in 1979 and Malala Yousafzai, 2014 & both were forced to leave #Pakistan #PakFacts

— Sir Ravindra Jadeja (@SirJadeja) October 10, 2014
#Malala: Pride of Pakistan can't return home http://t.co/idNHwVxPC7

— salma jafar (@Chiltan) October 12, 2014
Nevertheless, Malala and Kailash's Nobel Prize win have been appreciated by many renowned international figures including US President Barack Obama and Indian Prime Minister Narendra Modi. Both of them congratulated the 2014 Nobel Peace Prize winners and acknowledged their fight for girls' education.
"Today, we honor Malala and Kailash's achievements." —President Obama on the Nobel Peace Prize announcement

— Barack Obama (@BarackObama) October 10, 2014
Malala Yousafzai's life is a journey of immense grit & courage. I congratulate her on being awarded the Nobel Peace Prize.

— Narendra Modi (@narendramodi) October 10, 2014
17-year-old Malala Yousafzai is the youngest ever recipient of the Nobel Prize. The Pakistani activist was shot in the head by the Taliban in Pakistan's Swat Valley on her way home from school on October 9, 2012. After being shot, she was flown to a hospital in Birmingham, England for treatment. Malala and her family have been living in England since then.
Author: Arafatul Islam
Editor: Manasi Gopalakrishnan
You can follow Arafatul on Twitter @arafatul