Search Results for Tag: 1971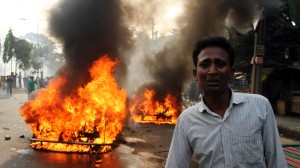 Bangladesh executes war criminal Abdul Quader Mollah, who was responsible for killing thousands of men and raping several women during the Bangladesh war of independence in 1971. Read on to know the latest women's news.

read more
Delwar Hossain Sayedi was sighted on the moon. People came out in groups to experience this wonder. When I heard this, I felt sad. A deep grief, anger and inability to do anything about it gripped me. Seriously, do people really believe that a human can be sighted on the moon? After this the Jamaat i Islam vandalized minority houses and temples with the help of some people who would do anything for Islam. These are uneducated and politically unaware people who do not know the true essence of Islam or any religion for that matter.

read more