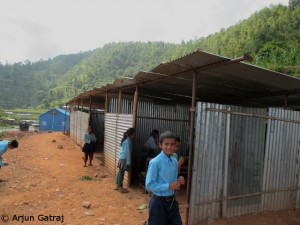 A return to normal is difficult while you have to live in ruins. "The earthquake has destroyed almost all the houses", Arjun Gatraj wrote to me from Thulosirubari in Sindhupalchowk District. The village is about 40 kilometers as the crow flies from the Nepalese capital Kathmandu, but is only accessible by a gravel road. "The people are struggling to make ends meet. They live from hand to mouth", Arjun said. According to him, the devastating 25 April earthquake killed about 75 people in Thulosirubari. Seven of the victims were students of the "Gerlinde and Ralf School", but they didn't die at school. "When I heard about the earthquake, I had many familiar people of Nepal in my mind: friends, good friends, and of course the many children in the various schools of the German aid organization Nepalhilfe Beilngries, also the students of the school in Thulosirubari", says Gerlinde Kaltenbrunner. "Then my thought was immediately: Saturday is no school, thank goodness!" With their financial commitment, the extreme climbers Gerlinde Kaltenbrunner and Ralf Dujmovits had made it possible at all to build the school.

read more
Date
3. July 2015 | 21:01
It looked as if the magician David Copperfield had staged one of his grand illusions. "The school was much smaller than I remembered it", Ralf Dujmovits tells me. "First I didn't even realize that the ground floor had just slumped down. The upper parts of the building were still standing. Only when I got loser, I saw the extent of damage. That really brought tears to my eyes." Germany's most successful high altitude climber visited the "Gerlinde and Ralf School" in Thulosirubari one and a half weeks after the devastating earthquake in Nepal. Gerlinde Kaltenbrunner and Ralf Dujmovits had given financial support to the project of the German aid organization "Nepalhilfe Beilngries" and thus had made it possible that the school had been opened in 2009. "If you suddenly realize that the building has to be demolished, you just begin to cry", says Ralf. You all can help to rebuild the school by supporting the campaign "School up!".

read more
Date
22. June 2015 | 11:33