Search Results for Tag: Ralf and Gerlinde School
The relatively dry winter in the Nepalese district Sindhupalchowk has played into the hands of our aid project "School up!". The construction work for the new school in the village of Thulosirubari, about 70 kilometers east of Kathmandu, could be continued almost without interruption. Meanwhile, the plate of the second floor is practically finished. The goal of completing the construction work (except for the painting) before the monsoon starts in summer seems realistic. The constructors of the new large Berlin airport who have not come to an end for years could take an example of such effectiveness (in Nepal!). Here are some more pictures:

read more
Date
10. March 2017 | 14:20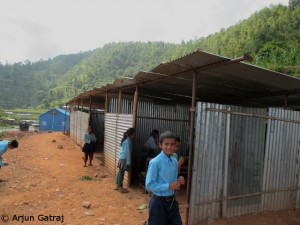 A return to normal is difficult while you have to live in ruins. "The earthquake has destroyed almost all the houses", Arjun Gatraj wrote to me from Thulosirubari in Sindhupalchowk District. The village is about 40 kilometers as the crow flies from the Nepalese capital Kathmandu, but is only accessible by a gravel road. "The people are struggling to make ends meet. They live from hand to mouth", Arjun said. According to him, the devastating 25 April earthquake killed about 75 people in Thulosirubari. Seven of the victims were students of the "Gerlinde and Ralf School", but they didn't die at school. "When I heard about the earthquake, I had many familiar people of Nepal in my mind: friends, good friends, and of course the many children in the various schools of the German aid organization Nepalhilfe Beilngries, also the students of the school in Thulosirubari", says Gerlinde Kaltenbrunner. "Then my thought was immediately: Saturday is no school, thank goodness!" With their financial commitment, the extreme climbers Gerlinde Kaltenbrunner and Ralf Dujmovits had made it possible at all to build the school.

read more
Date
3. July 2015 | 21:01