Das wünsche ich dem Mount Everest (My wishes for Mount Everest)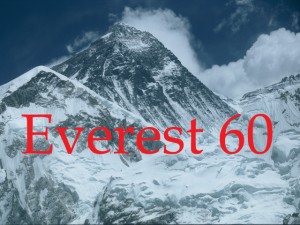 Auf dieser Pinnwand sammle ich anlässlich des 60-Jahr-Jubiläums der Everest-Erstbesteigung Äußerungen von Bergfreunden: Was wünschen sie dem höchsten Berg der Erde für die Zukunft wünschen? (On this pinboard on the occasion of the 60th anniversary of the first climbing of Everest I collect statements of mountain lovers: What do they wish the highest mountain on earth for the future?)
I wish that Everest continues to keep inspiring people to explore their boundaries and push their limits, all the while realizing that only with Mother Nature's blessing do we reach the top. Mount Everest is the highest point on Earth. It is the entire world's responsibility to help conserve the mountain and its surroundings from environmental degradation. We need to respect and protect Mother Nature's treasures. Since 2008, we've been organizing the "Eco Everest Expeditions" to help environmentally-minded participants, mountaineers, climbers, trekkers, environmentalists, journalists and supporters understand first-hand how climate change and glacial melting is affecting Everest's fragile home. (Ang Tshering Sherpa, Past President of the Nepal Mountaineering Association, head of the expedition agency Asian Trekking)
(Ich wünsche dem Everest, dass er auch weiterhin Menschen dazu inspiriert, ihre eigenen Grenzen zu erforschen und über sie hinauszugehen, immer im Bewusstsein, dass wir nur mit dem Segen von Mutter Natur den Gipfel erreichen. Der Mount Everest ist der höchste Punkt der Erde. Es liegt in der Verantwortung der ganzen Welt, dabei zu helfen, den Berg und seine Umgebung vor  Umweltverschmutzung zu bewahren. Wir müssen die Schätze der Natur respektieren und beschützen. Seit 2008 organisieren wir die "Öko-Everest-Expeditionen", damit umweltbewusste Teilnehmer, Bergsteiger, Kletterer, Trekkingurlauber, Umweltschützer, Journalisten und Unterstützer besser verstehen, wie Klimawandel und Gletscherschmelze das zerbrechliche Zuhause des Everest bedrohen. – Ang Tshering Sherpa, langjähriger Präsident des Nepalesischen Bergsteiger-Verbands NMA, Chef des Expeditionsveranstalters Asian Trekking)
______
Hoch soll er leben und mit jedem Jahr noch ein Stück höher in den Himmel wachsen, damit er bis zum Ende der Zeit den Menschen, die zu seinen Füßen leben, ein gutes Leben beschert — und dass er die, die zu seinem Gipfel streben, inspiriert, über sich selbst hinauszuwachsen zum Wohle aller Menschen. (Helga Hengge, zweite deutsche Frau auf dem Everest, die erste, die auch den Abstieg überlebte)
(Three cheers for Everest! Year by year it shall grow a little bit higher in the sky with the objective to give a good life to the local people. And to inspire the climbers to push their limits, for the benefit of all. – Helga Hengge, second woman from Germany who (in 1999) scaled Mount Everest but the first who also survived the descent)
______
Everest is the greatest and highest mountain on the earth. I wish it continues to inspire climbers from all over the world to visit Nepal, dream big and take success all the way to the summit. I wish it continue to represent us in the world and provide opportunities for young generations. Meanwhile, first I want people to respect the mountain and protect it from harm. Everest belongs to everyone in the world. We need to save it for our future generations too. (Apa Sherpa, Nepalese mountaineer, Everest record holder with 21 ascents)
(Der Everest ist der größte und höchste Berg der Erde. Ich wünsche ihm, dass er weiter Bergsteiger aus aller Welt inspiriert, Nepal zu besuchen, große Träume zu träumen und erfolgreich zum Gipfel aufzusteigen. Ich wünsche ihm, dass er uns weiterhin in der Welt repräsentiert und der jungen Generation Chancen eröffnet. Inzwischen wünsche ich mir aber zuerst, dass die Menschen den Berg respektieren und schützen. Der Everest gehört jedem in der Welt. Wir müssen ihn auch für unsere künftigen Generationen bewahren. – Apa Sherpa, nepalesischer Bergsteiger, Everest-Rekordhalter mit 21 Besteigungen)
______
Everest has many routes on it, two of these are very popular and are commercialised. However there is ample room for climbers to climb in an alpine style, without oxygen, without fixed ropes, without Sherpas, or in any style that one may want, but I do not see many teams or individuals actually taking on these challenges. There are still new routes to do on Everest, and some route to be completed in their entirety, I would like to see climbers taking on some of these challenges in the future.
At the same time I would like to see those who climb Everest to respect the mountain and their own passions without having to make excuses of being the oldest, youngest, fastest, or whatever, any ascent is still a worthy achievement. I would also like the media to respect the mountain rather than making it an excuse to make wild stories for the sale of publications. (Russell Brice, New Zealand mountaineer, who scaled Mount Everest twice; head of the expedition company Himalayan Experience)
(Der Everest bietet viele Aufstiegsrouten, zwei davon sind sehr beliebt und kommerzialisiert. Es gibt jedoch auch reichlich Platz für Kletterer, um dort im Alpinstil zu klettern, ohne Sauerstoff, ohne Fixseile, ohne Sherpas, in jedem Stil, den man bevorzugt. Aber ich sehe nicht viele Teams oder Einzelne, die sich wirklich diesen Herausforderungen stellen. Es gibt immer noch neue Routen am Everest zu entdecken und einige vorhandene in Gänze zu vollenden. Ich würde in der Zukunft gerne Kletterer sehen, die sich diesen Herausforderungen stellen.
Gleichzeitig wünsche ich mir, dass alle, die den Everest besteigen, den Berg respektieren und auch ihre eigenen Leidenschaften, ohne dass sie sich damit entschuldigen müssen, der Älteste, Jüngste, Schnellste oder was auch immer zu sein. Jede Besteigung ist eine beachtliche Leistung. Ich wünsche mir auch, dass die Medien den Berg respektieren anstatt ihn als Vorwand für wilde Geschichten zu nehmen, um ihre Publikationen zu verkaufen. – Russell Brice, neuseeländischer Bergsteiger, der zweimal den Everest bestieg; Chef des Expeditionsveranstalters Himalayan Experience)
______
Long days back, there were a few numbers of people who could climb Mt.Everest.  However, I wish that in future, it would be a mountain where many people would able to climb repeatedly. (Hirotaka Takeuchi, the first Japanese who climbed all fourteen 8000ers)
(Vor langer Zeit gab es nur eine kleine Zahl von Menschen, die den Mount Everest besteigen konnten. Dennoch würde ich mir für die Zukunft wünschen, dass er ein Berg wäre, den viele Menschen wiederholt besteigen können. – Hirotaka Takeuchi, der erste Japaner, der alle 14 Achttausender bestieg)
______
I wish that Mount Everest will continue to inspire the next generation of adventurers, who will love the mountains and protect them from harm. I wish that it will remain a symbol of determination and achievement. For professional mountaineers, I wish that they will continue to find new routes to the top of Mount Everest. For enthusiast climbers, I wish them safety and success as they climb up to see the most amazing view in the world. For Sherpas, I wish that Mount Everest will continue provide opportunities. For the Nepali, I wish that Mount Everest will continue to make them proud to be a Nepali. For all the people in the world, I wish that Everest will continue to remind them that it is the highest mountain in the world.  Therefore, as citizens of this world Mount Everest belongs to all of us. (Dawa Steven Sherpa, Nepalese climber, who summited Everest twice, entrepeneur, environmentalist)
(Ich wünsche, dass der Mount Everest auch die nächste Abenteurer-Generation inspiriert, die die Berge liebt und sie schützt. Ich wünsche, dass er ein Symbol für Zielstrebigkeit und Leistung bleibt. Den Profibergsteigern wünsche ich, dass sie auch weiterhin neue Routen auf den Gipfel des Mount Everest finden. Begeisterten Bergsteigern wünsche ich Sicherheit und Erfolg, wenn sie klettern, um den schönsten Ausblick der Welt genießen zu können. Den Sherpas wünsche ich, dass der Mount Everest ihnen weiterhin Chancen bietet. Den Nepalesen wünsche ich, dass der Mount Everest weiterhin dafür sorgt, dass sie stolz sind, Nepalesen zu sein. Allen Menschen auf der Welt wünsche ich, dass der Everest sie daran erinnert, dass er der höchste Berg der Welt ist. Als Bürgern dieser Welt gehört deshalb der Mount Everest uns allen. – Dava Steven Sherpa, nepalesischer Bergsteiger, der zweimal den Everest bestieg, Unternehmer, Umweltschützer)
______
I don't wish anything for the mountain itself; it is sufficiently formidable that no humans can harm it. For the climbers who attempt to get to the top, I would wish much better vetting of the people who attempt to climb it, thus eliminating the many incompetent men and women; considerably less crowding, partly as a result of better vetting; fewer circus antics (such as standing at the summit for six minutes with no clothing above the waist or playing a stringed instrument at the top or hitting a golf ball off the summit) and greatly increased numbers of serious attempts to scale Everest by unclimbed routes on the vast east face and by the ultimate challenge of a continuous traverse via the Horseshoe Route along only ridges; up the west ridge of Nuptse then over Lhotse and finally down the west ridge of Everest back to the starting point, all at very high altitudes without the crutch of any bottled oxygen.
I would also like to see many women pioneers. Till now women have been catching up with men using their techniques and routes, and achieving noteworthy successes already accomplished by men. It's time for them to do something new and different that men have not yet done. (Elizabeth Hawley, world's preeminent chronicler of Himalayan mountaineering)
(Ich wünsche dem Berg selbst nichts, er ist gewaltig genug, Menschen können ihm eigentlich nichts anhaben. Für Gipfelaspiranten wünsche ich mir, dass sie künftig besser überprüft und auf diese Weise viele unfähige Männer und Frauen aussortiert würden; erheblich weniger Gedränge, teilweise als Ergebnis dieser besseren Überprüfung; weniger Zirkusmätzchen (etwa ohne Kleidung oberhalb der Hüfte sechs Minuten am Gipfel zu stehen oder dort oben ein Streichinstrument zu spielen oder einen Golfball abzuschlagen) und eine deutlich höhere Zahl ernsthafter Versuche, den Everest über unbestiegene Routen durch die riesige Ostwand zu besteigen und als ultimative Herausforderung mit einer lückenlosen Überschreitung über die 'Hufeisen-Route', ausschließlich über Grate: den Westgrat des Nuptse hinauf, dann über den Lhotse und zuletzt über den Everest-Westgrat zurück zum Ausgangspunkt, alles in sehr großer Höhe, ohne die Krücke von Flaschensauerstoff.
Ich würde auch gerne mehr Frauen als Pionierinnen sehen. Bis jetzt ist es Frauen zwar gelungen, die Männer einzuholen, indem sie deren Techniken und Routen benutzten, und bemerkenswerte Erfolge zu erreichen, die vorher schon von Männern geschafft wurden. Es wird Zeit, dass sie etwas Neues und anderes machen, das Männer noch nicht getan haben. – Elizabeth Hawley, legendäre Chronistin des Himalaya-Bergsteigens)
______
I dream to see Everest from the bottom through a glass of wine. For me it makes no sense to wish for less people on the slopes of Everest – as nobody can wish for less people on Eiffel tower. But of course I hope for less corpses on the slopes. (Denis Urubko, Russian climber, who has summited all 8000ers without oxygen mask)
(Ich träume davon, den Everest von seinem Fuße aus durch ein Glas Wein zu sehen. Für mich macht es keinen Sinn, mir weniger Leute an seinen Hängen zu wünschen. Es ist genauso sinnlos, als erhoffte ich mir weniger Besucher des Eiffelturms. Aber natürlich wünsche ich mir weniger Leichen an den Hängen des Everest. – Denis Urubko, russischer Bergsteiger, der alle Achttausender ohne Atemmaske bestiegen hat)
______
Ich denke, dass die meisten Wünsche für den Everest sehr ähnlich sein werden, und es gibt eigentlich nur eins, was ich diesem wunderschönen Berg wünsche.  Ich hoffe, dass Chomolungma einmal eine Auszeit bekommen wird. Eine Auszeit von den Hunderten von Menschen, die jedes Jahr einen Gipfelversuch starten und eine Auszeit von der vielen Kritik, die an ihr geübt wird. Da es allerdings eher unwahrscheinlich ist, dass es in den nächsten Jahren weniger Aspiranten und Aspirantinnen geben wird, wünsche ich mir, dass diejenigen, die auf ihrem Gipfel stehen wollen, dies mit Ehrfurcht und Bescheidenheit tun, und ihr den Respekt zollen, den sie verdient. (Billi Bierling, deutsche Journalistin und Bergsteigerin, die 2009 den Everest bestieg)
(I guess that most of the birthday wishes for Everest will be very similar but there is only one thing I could possibly wish for this beautiful mountain. I hope for Chomolungma that she will get a break – a break from the hundreds of people, who come and climb her every year and a break from all the criticism she is getting. However, as it is very unlikely that the number of people attempting to reach her top every season will drop, I hope that everyone who is trying to climb the highest mountain in the world will do so humbly and with awe and will pay her all the respect she deserves. – Billi Bierling, German journalist and mountaineer, who climbed Everest in 2009)
______
Ich würde ihm eigentlich wieder die Besteigungszahlen pro Jahr wünschen, die zu unserer Zeit üblich waren. Ich war Nummer 83, und es waren schon einige Jahrzehnte seit der Erstbesteigung vergangen. Und ich wünsche diesem tollen Berg, dass sich die Leute selbstständig eine gewisse Sportlichkeit auferlegen, um wieder nach fairem Verständnis von Besteigungsmitteln und Stil auf diesen Berg zu steigen. (Bernd Kullmann, deutscher Bergsteiger, der im Herbst 1978 den Everest bestieg)
Bernd Kullmann: Besteigungszahlen wie zu unserer Zeit
(I would like to wish Mount Everest the number of ascents that were usual in our times. I was Nr. 83, and some decades had already passed since the first ascent. And I wish this wonderful mountain that the mountaineers show sporting spirit and climb with a fair understanding of the means they use and of their style. – Bernd Kullmann, German climber, who reached the summit of Everest in autumn 1978)
______
Die letzten Nachrichten vom Everest waren keine guten Nachrichten. Es wirkt, als wäre der Everest eine Show, eine Art Disney World. Aber so ist es nicht. Ich denke, das größte Geschenk, das wir dem Everest machen können, ist, großen Respekt vor ihm zu haben. Vielleicht ist der Everest kommerziell, aber er ist ein Berg, dazu noch der höchste. Und wir müssen ihm respektvoll begegnen. (Edurne Pasaban aus Spanien, die als zweite – oder auch erste – Frau alle Achttausender bestieg)
Edurne Pasaban: Respect for Everest
(The last news from Everest were not good news. It looks like Everest is a show, like a Disneyworld. But it's not like that. So I think the best present we can give Everest is to have big respect for him. Maybe Mount Everest is a commercial thing, but it's a mountain, the highest, and we must respect him. – Edurne Pasaban from Spain, the second – or first – woman who climbed all fourteen 8000ers)
______
Ich wünsche dem Mount Everest, genauso wie den anderen Bergen in seiner Nachbarschaft, dass er nicht mehr lange das Ziel irgendwelcher größenwahnsinniger Hobbybergsteiger bleibt. Sondern dass Zugangsbeschränkungen (Eignungstests, etc) eingeführt werden und dass man Alternativen schafft für die, die von den Einnahmen leben. Vielleicht wären Geldstrafen für alle Bergtouristen, die ihren Müll dort verstreuen, eine hübsche Einnahmequelle. (Silke Wünsch, Kletterin aus Köln)
(I wish Mount Everest and all mountains in the neighbourhood that they are no longer visited by megalomaniac amateur mountaineers. That restrictions (qualification tests etc.) will be introduced and that alternatives will be created for those who live on the receipts. Maybe fines for those who leave their garbage would be a nice source of income. – Silke Wünsch, climber from Cologne, Germany)
______
Ich wünsche dem Mount Everest vor allem mehr Ruhe und wirklich nur noch Menschen, die aus Überzeugung, mit einer echten inneren Begeisterung dorthin wollen und die versuchen, ihn aus eigener Kraft zu besteigen, nicht mit allen Mitteln, ganz egal, was es kostet. (Gerlinde Kaltenbrunner aus Österreich, die erste Frau, die alle vierzehn Achttausender ohne Flaschensauerstoff bestieg)
Gerlinde Kaltenbrunner: Mehr Ruhe, mehr echte Bergsteiger
(First of all I wish Mount Everest more quiet. And only people, who visit him by conviction, with real enthusiasm, and who try to climb the mountain on their own, not using all available means, whatever the cost. – Gerlinde Kaltenbrunner from Austria, the first women who climbed all fourteen 8000ers without supplementary oxygen)
______
Ich wünsche dem Mount Everest vor allem, dass weniger Leute hinkommen, die am Berg eigentlich nichts zu suchen haben. Und dass sich statt derer mehr Bergsteiger am Everest einfinden, die den Aufstieg wirklich vernünftig, aus eigener Kraft schaffen können. (Ralf Dujmovits, der erste und bisher einzige Deutsche, der alle 14 Achttausender bestiegen hat)
Ralf Dujmovits: Weniger Leute, die dort nicht hingehören
(Above all I wish Mount Everest that less people try to climb this mountain who actually do not belong there – and more who are able to make it on their own. – Ralf Dujmovits, the first and so far only German mountaineer, who climbed all fourteen 8000ers)
______
Ich wünsche ihm, dass er ein ruhigerer Berg wird, dass er nicht mehr so überlaufen ist. Ich denke, das ist nur realisierbar, wenn man die Zahl der Permits pro Saison beschränkt oder nur noch Bergsteiger ohne Sauerstoff zulässt. Aber das wird nicht durchführbar sein. Denn letztendlich verdienen auch die Länder daran, dass die Berge so gerne bestiegen werden, einfach durch die Permits. Und auf diese Gelder wird keiner verzichten wollen – nur weil der Berg überfüllt ist. (Alix von Melle, Deutschlands erfolgreichste Höhenbergsteigerin)
Alix von Melle: Ich wünsche ihm mehr Ruhe
(I wish Mount Everest, that it will become a more quiet mountain, not as overcrowded as now. I think that's only possible by limiting the number of permits in one season or by admitting only mountaineers who climb without supplementary oxygen. But this won't be practicable, because the countries make profit by selling permits for popular mountains. No one will give up this money – not just because the mountain is overcrowded. – Alix von Melle, Germany's most successful female high-altitude climber)
______
Ich wünsche dem Mount Everest, dass es ein bisschen ruhiger wird, dass die Leute kommen, weil sie ihn lieben, weil sie vielleicht auch einmal im Leben auf den höchsten Berg steigen wollen. Aber dass es wirklich eingefleischte Bergsteiger sind und nicht nur Gipfelsammler, die wegen Ruhm und Ehre hochsteigen. (Robert Jasper, deutscher Extremkletterer)
Robert Jasper: Nur eingefleischte Bergsteiger
(I wish Mount Everest, that it will be calming down. That people only come, because they love him, because they want to climb the highest mountain once in their lifetime. But they should be real mountaineers with experience – and not people who only collect summits because of fame and honour. – Robert Jasper, extreme climber from Germany)
_________
Ich wünsche dir, Chomolungma, dass dir alle Bergsteiger wieder mit Respekt begegnen. Dass sich wirklich nur Menschen an dir versuchen, die über das nötige bergsteigerische Können und ausreichend Erfahrung verfügen. Dass sie im Erfolgsfall ehrlich, also ohne zu flunkern, kommunizieren, mit welchen Mitteln sie den Gipfel erreicht haben. Dass sie ihren Müll von den Hängen und aus dem Basislager wieder mitnehmen. Dass die Dilettanten am Berg künftig einen anderen Weg finden, um ihr Ego aufzupolieren. Und dass die Unbelehrbaren einfach kein Permit mehr erhalten. (Stefan Nestler)
(Chomolungma, I wish you that all mountaineers treat you with respect. That only people will try to climb you, who have the necessary skills and experience as mountaineers. That the climbers in case of reaching the summit communicate truthfully which means they used for the ascent. That they take back home their garbage from the slopes and basecamp. That mountaineering dilettantes look for other kinds of ego trips. And that the unteachable simply don't get a permit. – Stefan Nestler)
Date
7. February 2013 | 13:13