Barrier-free Everest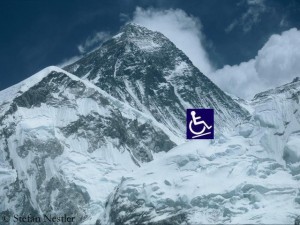 A permit for a video interview broadcasted live from the summit of Mount Everest via smartphone costs about $ 2000. We know that since this spring, when the Briton Daniel Hughes did it this way answering questions of the BBC– without permission, as it turned out later. The Nepalese Tourism Ministry was not amused. Hughes could be banned from obtaining climbing permits for ten years or banned from entering the country for five years. But I'm sure that meanwhile both parties have come to an amicable agreement on a special Everest smartphone tariff. How fortunate that I call my old friend Chomolungma from only 50 metres above sea level. Quite legally, only the NSA is listening too. It takes me three attempts to be successful:
Namasté, Chomo! Stefan is calling! Where the hell have you been?
Also Namasté! I was taking a snow shower. Wonderful, this monsoon!
Did you really need a shower after this spring season?
Joker, are you living behind the moon?
Almost. But from here it looked like you had a better press than in 2012 – perhaps because of the 60-year anniversary of the first ascent.
I heard something different. I just say: The brawl in Camp 2.
True, that didn't go down well. What did really happen there?
You have to ask the participants. Only this: There are hooligans on the mountain too. And who is the victim once again? I am.

You? Why?
First, I am once again held responsible for an excess to which I haven't even contributed a falling rock. And secondly, some more top climbers will turn their back on me. For my future this means: No delicacies, just fast food – if you know what I mean.
But after all, this spring you were able to welcome an 80-year-old climber on the summit.
Very funny! I haven't laughed like this in a long time. Did I have an alternative? It would have been easy for me to blow him away. But in this case everybody would have said: Look, the killer mountain! Now Chomo's got it in for seniors.
You were not even tempted?
Yoga.
Yoga?
I knotted my avalanche-prone slopes, held my breath and remained motionless until the old man was up. Afterwards I got a cramp.
In the Hillary-calf or the South buttocks?
(He is laughing) Good joke! But no, I had a crying fit. And I swore something to myself.
You make me curious.
If the first group of seniors with walkers reaches the South Col, I turn myself into a volcano.
Impossible.
I am already in negotiations with the climate change officer of the United Anger Mountains.
You are silly.
Silly, my friend, is if someone plans to fix a ladder at the Hillary Step.

What's so silly with it?
That they don't build a lift. Finally, we are living in the 21st century, aren't we? Even mountains must be barrier-free.
Date
19. June 2013 | 17:35