Search Results for Tag: Daniel Hughes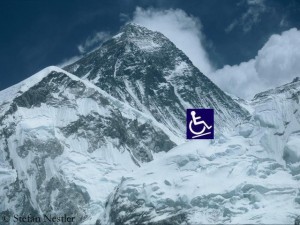 A permit for a video interview broadcasted live from the summit of Mount Everest via smartphone costs about $ 2000. We know that since this spring, when the Briton Daniel Hughes did it this way answering questions of the BBC– without permission, as it turned out later. The Nepalese Tourism Ministry was not amused. Hughes could be banned from obtaining climbing permits for ten years or banned from entering the country for five years. But I'm sure that meanwhile both parties have come to an amicable agreement on a special Everest smartphone tariff. How fortunate that I call my old friend Chomolungma from only 50 metres above sea level. Quite legally, only the NSA is listening too. It takes me three attempts to be successful:
Namasté, Chomo! Stefan is calling! Where the hell have you been?
Also Namasté! I was taking a snow shower. Wonderful, this monsoon!
Did you really need a shower after this spring season?
Joker, are you living behind the moon?

read more
Date
19. June 2013 | 17:35