Three questions for Ueli Steck
The fall season in the Himalayas is not over yet. Although the expedition on Mount Everest as well as those on the eight-thousanders Makalu, Dhaulagiri and Annapurna were recently canceled due to dangerous conditions on the mountains, there are still a few climbers under way on the highest mountains. So the team of South Korean Sung Taek Hong, who wants to tackle the Lhotse South Face again, decided in favor of a later expedition start. And also Swiss climber Ueli Steck and American Colin Haley have just completed their acclimatization. They did it on separate ways. Steck climbed along with Tenji Sherpa through the North Face of the 6,640-meter-high Cholatse. "That was pretty cool. He is the first Sherpa who climbed this wall", Ueli writes to me. "It's nice to see how a 'new' generation of Sherpas is growing up, who are really interested in climbing and not just in business. I think that's awesome!" Steck and Haley want to first repeat the extremely difficult route via the Southeast Pillar to the summit of the 7,804-meter-high Nuptse East which was opened in in 2003 – but contrary to the first climbers, the Russians Valerij Babanov and Yuri Kosholenko, in Alpine style. I sent Ueli three questions to Base Camp.
Ueli, expeditions on Everest, Makalu and Dhaulagiri were canceled during the last two weeks because of too much snow and high risk of avalanches. What's about the conditions on Nuptse?
The expedition on Everest was canceled too? On Cholatse, a week ago, we really had perfect conditions. I have climbed the wall three times so far, and never before I had such good conditions. It was like a dream. Now here on Nuptse, it looks a bit different. The wall was extremely dry, as it was very warm. Now the weather is very unstable, and there has been some precipitation everyday. I think it's not very good, but we don't just throw in the towel!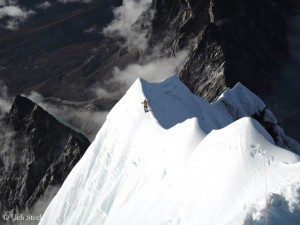 In the pictures that you have sent from Khumbu region, you always look top fit and good-humored. In contrast your climbing partner for this ambitious project on Nuptse, Colin Haley, had health problems. What happens if he doesn't become as fit as you obviously are?
Colin is on track. I feel very comfortable in high altitude, and I get used to the thin air very quickly. We had to complete our acclimatization each with our own program. Therefore, I went to Cholatse, along with Tenji. But Colin is now ready too. Let's see how it works.
The earthquake in Nepal is about half a year back. How do you experience the people and the situation in the Khumbu region?
It is impressive to see how the people deal with it. The Khumbu is already completely rebuilt. If you did not know that there was an earthquake in spring, you would not notice. It is striking how few tourists are here. But as always the local people have a very positive attitude. The country has more problems than just the consequences of the earthquake – currently no more fuel reaching Nepal. I think the whole policy is causing more suffering.
Date
17. October 2015 | 13:32