Dorje's Everest sabbatical
Dorje Sherpa is familiar with Everest disasters. In 1996, 20 years ago, he reached the summit of the highest mountain on earth for the first time. Then he belonged to the IMAX film team of the American David Breashears, when a storm in the summit area killed eight climbers within 24 hours. "We were then in Camp 2 at 6,400 meters", the 50-year-old tells me in his "Buddha Lodge" in the village of Phakding, which lies on the popular trekking route to Everest Base Camp.
Rescue in Khumbu Icefall
Numerous certificate are hanging on the walls of the guest room, including a thank-you note by the Nepal Mountaineering NMA for Dorje's participaton in the rescue operation on Everest in spring 2014. Two years ago, 16 Nepalese climbers died in an ice avalanche in the Khumbu Icefall. Then Dorje was Sirdar of the "Altitude Junkies" team, meaning the boss of their climbing Sherpas. From the base camp, he ascended to the scene of the accident and helped to recover the dead and injured.
Family says: No!
And also in 2015, the Sherpa was at the foot of Mount Everest, when the earthquake on April 25 triggered an avalanche from Pumori that hit the base camp and killed 19 people. "We were sitting in the mess tent and were eating. It was a huge avalanche. One team member tried to run away, stumbled, fell and lost two teeth." 2014 and 2015 were really bad years on the highest mountain, says Dorje: "Therefore, I won't climb Everest this year. My family does not let me go." The experienced climber has reached the 8850-meter-high summit already six times. He wants to hang up, not stop, says the Sherpa: "Maybe it works again in 2017."
Ready for guests – if they come
His wife and son are living in the capital Kathmandu. Dorje has monitored the reconstruction of his lodge in Phakding, which was destroyed in the earthquake almost eleven months ago. Everywhere it is still smelling of fresh processed wood. The outer stone walls were built very solid. "Now we are ready for new guests," says Dorje Sherpa, when he proudly shows us the completed rooms of htis lodge. "Hopefully, they'll come."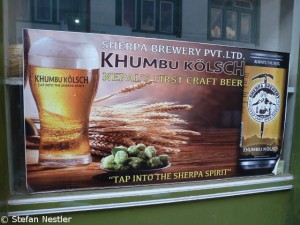 P.S.: The art of brewing beer done in my home town Cologne seems to have reached the Everest region. Here – as the picture testifies – you can buy "Khumbu-Kölsch". 😉
Date
16. March 2016 | 13:08