"Safety on Everest has its price"
Happiness can not be planned, but to a certain extent the presuppositions. "I reached the summit, and I and my Sherpa Son Dorjee had it for us," Andreas Friedrich, who, on 13 May, was the first German this spring season on the top of Mount Everest, tells me. "It was an incredible luxury to stand alone up there. I was very lucky." He owes it to the foresight of his experienced expedition leader Russell Brice, says Andreas. The old stager from New Zealand, head of the operator Himalayan Experience, had stayed with his group at Base Camp, when almost all of the teams who planned their summit attempt for the days around 20 May had flown by helicopter to lower regions to recover in "thicker" air. "So we had an advantage of a few days and reached the summit as the first team of a commercial operator," says Friedrich.
"Experiences were worth frostbite"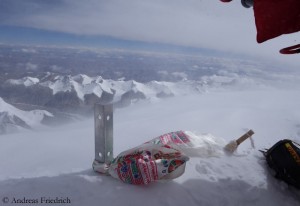 "Although the weather was really lousy – minus 30 to 35 degrees, gusty wind – I was fully in high spirits up there."After he had taken some summit pictures, the German climber took his time for another quarter of an hour and "absorbed these views: the mountains suddenly shrunken to miniature size, the glaciers that were only brushstrokes". The 54-year-old flight captain from the town of Munich suffered second to third degree frostbite at all fingertips during his stay on the summit. "The hand will remain sensitive for the rest of my life," says Andreas. "But it was absolutely worth it. The experiences I made, the lessons I learned and all these new feelings by far outweigh the problems I'll have with my five fingers in future."
Like in the 1970s
This spring more than 400 climbers reached the summit of Everest from Nepal, more than 100 from Tibet. That seems back to normal – after 2015 without summit successes on both sides of the mountain because of the devastating earthquake in Nepal and after the premature end of the season on the south side in 2014 due to the avalanche incident in the Khumbu Icefall. However, it has been different in the Khumbu area, says Andreas Friedrich: "The tea houses were empty. Namche Bazaar was like a ghost town." Even at Base Camp it was emptier as usual, only about 290 foreign climbers had pitched their tents, says Andreas: "The atmosphere felt like in the 60s, 70s: very relaxed. There was enough space on the glacier. And that continued on the mountain."
No playground
Only on their descent from the summit, Andreas and his teammates got into a jam – just in the dangerous Icefall, they met all the summit aspirants who had chosen 19 or 20 May as summit days. There were some among them who actually were not up to the challenges of Everest," says Andreas, who scaled the eight-thousander Manaslu (in 2012) and other high mountains in the Himalayas before he tried Everest: "People who didn't know how to go with crampons and cross the ladders in the Icefall or how to use a jumar (ascender). I saw it with my very eyes and shook my head. Everest is not a mountain for practice, no playground."
Emergency oxygen lacking
He was not surprised that five climbers lost their lives on Everest this spring, says Andreas Friedrich. "I think it could have been avoided if all, like Russell Brice, had deposited enough oxygen for the case of emergency at the South Col or in Camp 3." But local discount operators like Seven Summits Treks had abstained from doing it, says Andreas. "Everyone who books a local operator's expedition for 18,000 Euros, may rub his hands for five minutes because of this bargain. But it comes at a price. You pay for it with much less knowhow and with extras which must be bought."
Brice: "They would have been turned around in my expedition"
Expedition leader Russell Brice is also tackling this thorny issue: "Once again the cheaper Nepal operators who actually have very little back up and who continue to take unsuitable climbers who spend far to long trying to get to the summit and then end up with problems are the main cause of death this year." Such members would have been turned around by his expedition much earlier, the head of Himex writes to me: "All these clients who go with cheaper local teams should understand that there is a reason that these teams are cheaper, and that there is very little support."
Andreas Friedrich agrees. He had to dig deep into his pockets to finance his Everest adventure, but he is convinced that the money was well spent: "If I botch it up or something happens, I can 100 percent rely on the risk minimization and crisis management of Russell and his Sherpas. And that's worth its price."
P.S.: Everest climber Andreas Friedrich is also the founder of the aid campaign "Mountain Projects", aiming inter alia to build a school at the Nepalese village of Kagate.
Date
7. June 2016 | 10:14