Search Results for Tag: Fatalities
Persistence pays off. The German high altitude climber Thomas Lämmle reached, as he wrote on Facebook yesterday, on last Sunday the 8,485 meter high summit of Makalu, the fifth highest mountain on earth. The 52-year-old from the city of Waldburg in Baden-Württemberg climbed without bottled oxygen and Sherpa support. Last year, Thomas had returned empty-handed from Makalu after four summit attempts, all of which had failed due to bad weather. Now, according to his own words, he also wants to tackle Lhotse, the fourth highest mountain in the world, "before the snowfall – means May 21st". Makalu was Lämmle's sixth eight-thousander after Cho Oyu (in 2003), Gasherbrum II (in 2005 and 2013), Manaslu (in 2008), Shishapangma (in 2013) and Mount Everest (in 2016).

read more
Date
18. May 2018 | 11:53
Tags
Carlos Soria
,
Chris Jensen Burke
,
Fatalities
,
Herbert Hellmuth
,
Kangchenjunga
,
Lhotse
,
Makalu
,
Maya Sherpa
,
Mount Everest
,
Pemba Gelje Sherpa
,
Thomas Lämmle
Happiness can not be planned, but to a certain extent the presuppositions. "I reached the summit, and I and my Sherpa Son Dorjee had it for us," Andreas Friedrich, who, on 13 May, was the first German this spring season on the top of Mount Everest, tells me. "It was an incredible luxury to stand alone up there. I was very lucky." He owes it to the foresight of his experienced expedition leader Russell Brice, says Andreas. The old stager from New Zealand, head of the operator Himalayan Experience, had stayed with his group at Base Camp, when almost all of the teams who planned their summit attempt for the days around 20 May had flown by helicopter to lower regions to recover in "thicker" air. "So we had an advantage of a few days and reached the summit as the first team of a commercial operator," says Friedrich.

read more
Date
7. June 2016 | 10:14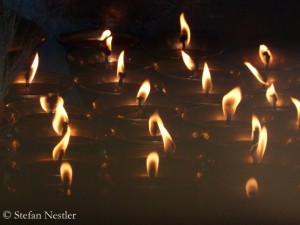 The joy at the first summit successes of the spring season on one of the eight-thousanders in Nepal was overshadowed quickly. The news that 13 members of an expedition organized by the Nepalese operator Dreamers Destination had reached the summit of 8091-meter-high Annapurna on Tuedasy had just faded away when it was followed by bad news: The 36-year-old Finn Samuli Mansikka and the 35-year-old Pemba Sherpa fell to death during the descent. On Mansikka's website his death was confirmed.

read more
Date
25. March 2015 | 17:26