Thomas Huber: "The crux is not the wall, but the man"
A footballer would say: The ball wasn't round. "The expedition has definitely run roughly," Thomas Huber tells me about his trip to Latok I in Pakistan. As reported, the older of the two Huber brothers, along with German climbers Toni Gutsch and Sebastian Brutscher, had planned to tackle the north side of the 7145-meter-high granite giant in Karakoram this fall –only a few weeks after his 16-meter-fall from a rock face and a subsequent brain surgery. So the unbalance of the expedition began. "We could not get together as a team because I was so busy with my situation after the fall and the head injury," Thomas concedes. "Nevertheless the motivation was high, and from my point of view the team fit perfectly. We maintained this euphoria, to Skardu, to Askole, to our Base Camp on the Choktoi Glacier. When we got there, everyone agreed: This is the place per se for climbing in highest perfection. But then everything ran differently."
Only the skies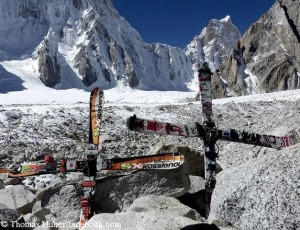 First, Thomas Huber's help was needed in a rescue operation on nearby Ogre II (6,950 meters). The US climbers Kyle Dempster and Scott Adamson were missing, after they had started to climb the North Face of the almost 7000er some days ago. "I had met them last year," says Thomas. "They were really cool guys. They belonged to the best alpinists in the US."
Huber knows the mountain massif well. In 2001, he succeeded, along with Swiss climbers Iwan Wolf and Urs Stoecker, the second ascent of Ogre I and the first ascent of Ogre III.
Thomas flew by rescue helicopter twice – in his pocket his emergency medication, because he did not know whether he would be able to stand the flight up to an altitude of 7,200 meters with his head injury. The 49-year-old had no problems, but there wasn't any sign of the two missing climbers: "We searched the planned ascent route through the North Face, the summit region, the Northwest Ridge, via which they wanted to descend, even the crevasses at the foot of the wall. We did not find anything, really nothing." Except for the skis of the two Americans at the access of the route.
The next rescue
Huber, Gutsch, and Brutscher climbed once more via the Northwest Ridge up to 6,200 meters, but again they didn't discover any sign of Dempster and Adamson. The trio had to descend when the weather suddenly turned bad. The search was canceled. After all, the three Germans were now well acclimatized to tackle their own project on Latok I. "But the rescue operation had been on my mind all along, so much that I could not think of normal climbing during this first phase of the expedition." Even in the second phase, that didn't change. Max Reichel, the cameraman of the team, suffered from high altitude sickness due to a protracted myocarditis. Doctors in Germany said that he had to be brought back to civilization as soon as possible. Thomas accompanied his friend to a point 40 kilometers downhill, 1,000 meters lower. There Max asked Thomas to return to Base Camp to tackle his project. "That freed me completely," says Huber. "I just wanted to think of climbing, nothing else."
Cold shower
He returned to Base Camp full of euphoria. There, however, a new "cold shower" awaited him – the last one. Huber's team partners Gutsch and Brutscher told him that they were not willing any more to climb the North Face. "They said they had a bad feeling and didn't see any chance to climb through the wall under these circumstances. They did not even want to try it." Thomas Huber fell into a deep emotional hole: "Sadness, total disappointment, also rage. I just could not believe that at a moment's notice they said they wanted to go home. I could not understand it." From his point of view the conditions were "acceptable": "Of course they were not optimal. The area was snowy, it was relatively cold. But there were no real avalanches in the wall, only spindrift. In addition, I thought that the situation would change in a positive way during some days of good weather. And the meteorologists predicted good weather."  It was pointless for him to try to persuade the other two climbers, says Thomas: "I cannot set off to climb the wall with such partners, who have been mentally already at home for a long time."
When the mountain gets bigger and bigger
For the 49-year-old, it was a deja vu. Also in 2015, his teammates – his brother Alexander, Swiss Daniel Arnold and Austrian Mario Walder – had outvoted him to abandon their Latok I expedition. "I cannot blame anyone saying: Thomas, maybe something is wrong with you," says Huber. "It's now 5-1 against me. And these five are really five top climbers. That beats me." Maybe it is a question of mentality, says Thomas: "I am just someone who speaks less but rather goes to the mountain to learn what it offers and how to deal with it. There is often a lot of discussion in Base Camp. And I notice that during these discussions the mountain is mentally getting bigger and bigger and in the end impossible." The momentum then falls by the wayside, Thomas means: "The big crux at Latok is not the wall, but the man. The secret of these walls is what they make out of people by and by. They have such a great power and charisma. On the one hand they are magnetic, on the other scary. You require considerable strength to remain defiant."
The critical point
Despite his frustration, Thomas Huber has not yet banned the Latok I North Face out of his mind, but he does not yet want to set a date for another attempt. "I'm not afraid of this wall and this mountain. I know I'll be back," says Thomas. "I'm just afraid that I'll be back with a team that again says: No, we don't want to go." In hindsight, it was a mistake to set off without having climbed a lot together before, Thomas believes: "These mountains belong to the most difficult in the world. If you tackle these mountains, you must be a team already before setting off. You must know how the others work. You also have to know the abysmal depths of their mind. Only then can you go to the limit." Why then doesn't he choose his brother Alexander as his partner, with whom he has already climbed and experienced so much in the mountains? "My brother does not want to go to the North Face, that's perhaps the critical point," says Thomas.
Date
26. October 2016 | 12:03