"School up!": Base plate is concreted
Your donations for our aid project "School up!" continue to work. The base plate for the third section of the new school in the small mountain village of Thulosirubari, 70 kilometers east of the Nepalese capital Kathmandu, has now been concreted. In the next step, the bricks for the walls of the first floor will be laid. Ralf Dujmovits – the so far only German climber to have climbed all 14 eight-thousanders – and I had laid the foundation stone for the third construction phase with another eight classrooms in mid-March. At that time, the first two buildings had been festively inaugurated.
Not yet at the finish line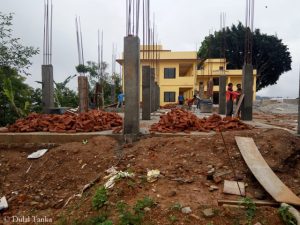 The old school of Thulosirubari had been damaged by the devastating earthquake in Nepal at the end of April 2015 so badly that it had had to be demolished. In June 2015, I had founded "School up!" with Ralf and the Austrian Gerlinde Kaltenbrunner – the first woman in the world to stand on the summits of all eight-thousanders without bottled oxygen – in order to rebuild the destroyed school as quickly as possible. We have already come a long way, but have not yet reached our goal and need further donations. Here once again the bank account of "School up!":
Recipient: Nepalhilfe Beilngries e.V.
Bank: Volksbank Bayern Mitte eG/Germany
IBAN: DE05 7216 0818 0004 6227 07
BIC/SWIFT-Code: GENODEF1INP
Intended purpose: Gerlinde and Ralf School
Thanks a million! You are great!
Date
2. August 2018 | 10:49