"School up!" – Building No. 3 is growing
"The construction work is going smoothly," writes Shyam Pandit, liaison man of the German aid organisation "Nepalhilfe Beilngries" in Nepal. In Thulosirubari, a small mountain village about 70 kilometers east of the capital Kathmandu, the third part of the new school with eight additional classrooms is being built. The foundations are laid, the base plate is soon to be concreted. If all goes well, this third building could be ready by 2019. The first two buildings with classrooms for twelve school classes were – as reported – ceremonially inaugurated in March. At that time Ralf Dujmovits, the only German climber so far who stood on all 14 eight-thousanders, and I laid the foundation stone for the next construction phase in Thulosirubari.
"A new beginning for our dreams"
All this has been made possible by your donations for "School up!", the aid project I had launched after the devastating earthquake in April 2015 along with Ralf and the Austrian top climber Gerlinde Kaltenbrunner (she was the first woman in the world to climb all eight-thousanders without bottled oxygen). The money that Gerlinde, Ralf and I collect goes directly into this one construction project that the "Nepalhilfe Beilngries" has been organizing and carrying out for us. I repeat the words of thanks that the students of Thulosirubari sent us at the beginning of the year: "We still remember that day. It was Saturday, 25 April 2015, when we lost our houses – and our dreams too between the colapsed buildings. We heard that God comes in many shapes. Some came to our place to reshape our damaged confidence. With our open heart, we thank you for your big heart, for reviving our hopes again. And our dreams have now got a new start."
Please continue to support us!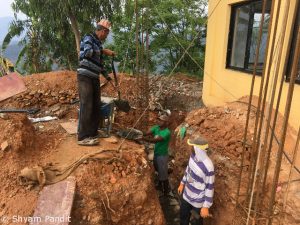 To complete the third school building too, we are still dependent on your support. Once again the bank account of "School up!":
Recipient: Nepalhilfe Beilngries e.V.
Bank: Volksbank Bayern Mitte eG/Germany
IBAN: DE05 7216 0818 0004 6227 07
BIC/SWIFT-Code: GENODEF1INP
Intended purpose: Gerlinde and Ralf School
A thousand thanks – also on behalf of the people of Thulosirubari!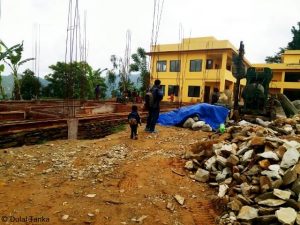 Update 3 July: Now the iron girders are also mounted – despite the monsoon, which means that construction work has to be temporarily suspended due to rainfall.
Date
29. June 2018 | 10:00