Participate! #welovemountains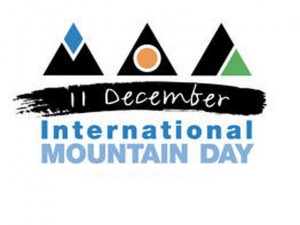 Did you already notice? Today is "International Mountain Day" (IMD). It is likely to be similarly far-reaching as the "World Migratory Bird Day" (that is celebrated over two days: on 9 and 10 May, probably to let the migratory birds pass the date line), similarly exciting as the "World Post Day" (9 October) or as popular as the "International Day to End Obstetric Fistula" (23 May). Anyway, it will not do any harm to force anti-mountaineers into dealing seriously with our playground at least once a year. In 2002, mountains were worth to the United Nations declaring an "International Year", which then melted down to the IMD  on 11 December.
Hard life in the mountains
This year's IMD is focusing on mountain family farmers. Most of them live a hard life in the mountains all over the world. According to the FAO, about 300 million people who live in the mountains of developing and transition countries are food insecure, with half of them suffering from chronic hunger. And climate change is exacerbating their situation. Most of the mountain farmers worldwide don't have any strong lobby – except for the European Alps: In Austria, a "Federal Institute for the Issues of Mountain Farmers" already exists for more than 30 years. It supplies politicians responsible for agriculture with scientific studies.
Don't forget the hashtag!
Actually, we can come to the aid of the "International Mountain Day" by delivering some digital stuff. After all, any mountain lover should like the IMD hashtag: #welovemountains. So I want to encourage you to tweet mountain images using this hashtag or to spread it via other social networks.
P.S.: To anyone who only wants to take part if there is something to be won: The FAO has launched a photo contest. It will run until 15 December. But in that case you have to take pictures that show a mountain summit or landscape and at least one person holding an IMD flag.
Date
11. December 2014 | 15:05