I've had it!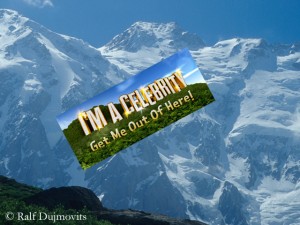 I am sick and tired of it. In recent days, I almost felt like I was reporting on a reality TV soap in a jungle camp instead of what happened in Base Camp on the Diamir side of Nanga Parbat. The dispute between the Spaniard Alex Txikon and the Italian Daniele Nardi is increasingly turning into a soap opera – at the latest, since it is about money. It is undeniable that the story has a certain entertainment value, as always when dirty laundry is washed in public. And as I do have still a few questions in this respect, I could probably add more episodes to this soap opera. But it isn't my job to play constantly the gossip reporter. Txikon and Nardi are professional climbers and in mountain business for many years. They should actually be able to find a solution to their dispute themselves, without going through the media.
Bad media?
In recent days, some climbers in Diamir Base Camp have not been sparing with criticism of the media, complaining about those who, "sitting with their butts in the warmth", report or, even worse, speculate on what's happening on Nanga Parbat thus providing discord and strife in Base Camp. Such a sweeping criticism annoys me. The protagonists of the soap opera themselves made their dispute public – via their own websites. They had to be aware that they could trigger a media avalanche. But whenever people are doing it this way and after a while realize that they are going to lose control, they blame "the media". The cap doesn't fit and I'm not wearing it! The controversy was already published when I started to report on it. I have always tried to give all sides a word in and to get first-hand information.
From now, only sport
But honestly, I just don't want to report on this feud any more. I can only appeal to all those involved: Resolve your problems together and concentrate on climbing again! Even without soap opera, winter climbing on Nanga Parbat is extremely exciting. And I'll continue to report on great mountain sport in my blog.
P.S.: It's really a coincidence that I'll leave for a one-week holiday in the mountains after writing this post. Then I'll be back for you. 😉
Date
12. February 2016 | 15:30