Sport climber Halenke: "Olympics as a door opener"
The Olympic flag is already there, the climbers will come in four years. Today Governor Yuriko Koiki presented at Haneda airport in Tokyo the flag with the Olympic rings which the Mayor of Rio had handed over to her at the closing ceremony of the Olympics in Brazil. In 2020 in Tokyo, sport climbers will officially compete for medals for the first time (one week before the Winter Games in Albertville in 1992, there was already a demonstration event won by German climber Stefan Glowacz). "Of course, as a competition climber I welcome this development in principle," says Sebastian Halenke regarding the Olympic premiere. "Until now, climbing as a competitive sport is barely represented in the media and even within the climbing scene there are rather spartan reports on the competitions." The 21-year-old climber from the German state of Baden-Wuerttemberg, whose trademark is his red mohawk haircut, belongs to the World Cup's top ten in the discipline Lead. In these competitions the participants have to climb a long, difficult route after only a brief glance at it as far as possible within a time limit and without falling.
Depending on the family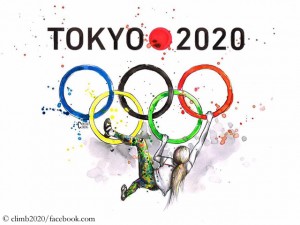 The support for competition climbers is "still very inadequate and it is not easy to get along," Sebastian writes to me. He is young enough to have a realistic chance to start in Tokyo. "Personally, I hope that the Olympics 2020 could be a door opener to make competitive climbing more popular and to get a perspective of a higher level of support." So far, climbers "depend on their family's support, and only with a solid financial background they have a real chance to develop their skills as competitors," says Sebastian.
Season goal no. 1: World Championships in Paris
When he was just twelve years old, Halenke took part in a youth climbing competition for the first time. Today he belongs to the best competition climbers in the world. Last weekend he finished the World Cup event in Imst in Austria in fifth place, his best result this year. His performance is improving. Sebastian's season goal no. 1 is the Climbing World Championship in Paris from 14 to 18 September, for which he has big plans.
The other side of the Olympic medal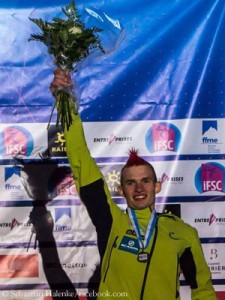 Like all other climbers I've talked to so far, Sebastian criticizes the plan for Tokyo 2020 to combine the three different disciplines Lead, Bouldering and Speed in a single competition. The best all-rounders are to win the medals. "It won't be easy to present climbing with all its disciplines in such a format," says the specialist in Lead.
So far, sport climbers have been a close fellowship. Sebastian Halenke fears that this could change after sport climbing has become an Olympic sport. "I hope that climbing will escape the rampant corruption and that the very familial relationship of the international climbing community will remain in the future. So far, all athletes have a very close, social relationship." It would be the other side of the Olympic medal, if it gets lost.
Date
24. August 2016 | 15:56