Search Results for Tag: Olympics
The Netherlands are called so for good reason. The highest "summit", the Vaalserberg near the town of Aachen, is only 323 meters high. Nevertheless you find "Oranje boven" also on the highest mountains on earth. Frits Vrijlandt is not a blank slate in the climbing scene. In 2000, he was the first Dutchman to climb Mount Everest from the Tibetan north side, later he became the second mountaineer from the Netherlands who scaled the Seven Summits, the highest mountains of all continents. At the International Mountain Summit (IMS) in Bressanone in South Tyrol, the General Assembly of the International Climbing and Mountaineering Federation (UIAA) was held – and Vrijlandt was reelected as President for another four years.
Frits, a man from such a flat country is the head of all climbers worldwide. That sounds a bit strange.

read more
Date
16. October 2016 | 7:43
The Olympic flag is already there, the climbers will come in four years. Today Governor Yuriko Koiki presented at Haneda airport in Tokyo the flag with the Olympic rings which the Mayor of Rio had handed over to her at the closing ceremony of the Olympics in Brazil. In 2020 in Tokyo, sport climbers will officially compete for medals for the first time (one week before the Winter Games in Albertville in 1992, there was already a demonstration event won by German climber Stefan Glowacz). "Of course, as a competition climber I welcome this development in principle," says Sebastian Halenke regarding the Olympic premiere. "Until now, climbing as a competitive sport is barely represented in the media and even within the climbing scene there are rather spartan reports on the competitions." The 21-year-old climber from the German state of Baden-Wuerttemberg, whose trademark is his red mohawk haircut, belongs to the World Cup's top ten in the discipline Lead. In these competitions the participants have to climb a long, difficult route after only a brief glance at it as far as possible within a time limit and without falling.

read more
Date
24. August 2016 | 15:56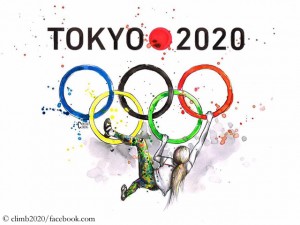 I haven't yet Olympic rings under my eyes. But that will surely change in the next two weeks because of the time difference between Rio de Janeiro and here. But when the next summer games are pending in four years in Tokyo, again in a different time zone, there will be an additional reason to change the daily habits: Sport climbing becomes Olympic in 2020. This was decided by the International Olympic Committee (IOC). "I think, it's absolutely cool," tells me German top climber Thomas Huber. "We have to be open to it. Sport climbing is worthy of being included in the Olympic program, because the competition has developed positively." The IOC decision could send a signal to young people.

read more
Date
5. August 2016 | 16:45