Search Results for Tag: Discovery Channel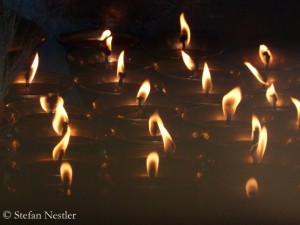 "It's a tremendous shock to us all", Dawa Steven Sherpa writes to me from the basecamp on the Nepalese side of Mount Everest. "My team was extremely lucky to miss the avalanche but we have all lost friends and family members in the avalanche." As in the previous years the 30-year-old Nepalese is leading an "Eco Everest Expedition" which is combining business and ecology: clients are led to the 8850-meter-high summit, but the team is also collecting garbage and brings it down to the valley.
It is still unclear when the climbing season on Everest will continue – and if at all. Alpine Ascents International (AAI) is the first of the big Everest players that has called off its expedition. "We have all agreed the best thing is to not continue this season's climb, so that all can mourn the loss of family, friends and comrades in this unprecedented tragedy", AAI writes on its website. Among the 16 avalanche victims of last Friday were five Sherpas working for AAI. They also supported the U.S. climber Joby Ogwyn, who planned to make the first wingsuit flight from the summit of Everest. Discovery Channel has meanwhile cancelled the live TV broadcast of the jump that was originally planned for 11 May. The team of Adventure Consultants that had lost three members in the avalanche has also decided to go home.

read more
Date
22. April 2014 | 12:06