Search Results for Tag: EOA
Such big garbage bags have guaranteed not yet been brought down from Mount Everest. The Expedition Operator's Association Nepal (EOA) has delivered canvas bags, capable of holding 80 kilograms, to Everest Base Camp. They are to be used in particular for transporting old tents and garbage, which have accumulated in Camp 2 at 6,400 meters due to the premature end of the climbing seasons in 2014 and 2015, down to the valley. 80-kg bags are, of course, too heavy to be shouldered by porters and carried through the Khumbu Icefall to Everest Base Camp.

read more
Date
29. March 2017 | 16:02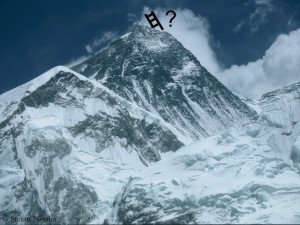 A news does not necessarily become more true by repeating it again and again. There are reports in many German newspapers that ladders should be fixed at the Hillary Step, the key point of the normal route on the Nepalese side of Mount Everest, to prevent traffic jams. This has been producing headlines like "Nepal makes climbing Everest easier". Let us look at the facts: Mohan Krishna Sapkota, spokesman of the Ministry of Tourism in Kathmandu, has told a journalist of a news agency that there were considerations to fix ladders at the Hillary Step. He didn't say when it should happen. All this is not new.

read more
Date
19. March 2014 | 0:32