Search Results for Tag: Ice Doctors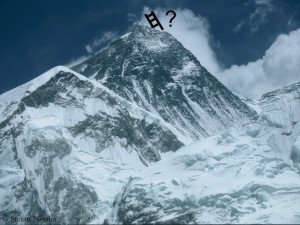 A news does not necessarily become more true by repeating it again and again. There are reports in many German newspapers that ladders should be fixed at the Hillary Step, the key point of the normal route on the Nepalese side of Mount Everest, to prevent traffic jams. This has been producing headlines like "Nepal makes climbing Everest easier". Let us look at the facts: Mohan Krishna Sapkota, spokesman of the Ministry of Tourism in Kathmandu, has told a journalist of a news agency that there were considerations to fix ladders at the Hillary Step. He didn't say when it should happen. All this is not new.

read more
Date
19. March 2014 | 0:32
Will Apa Sherpa feel melancholy these days? Climbers from all over the world are arriving at Everest basecamp on the south side of the mountain. Meanwhile the so called "Ice Doctors" have prepared the route through the dangerous Khumbu icefall up to Camp 2 on 6600 metres. The climbing season on the highest mountain of the world is ready to start. For more than two decades Everest was an integral part of Apa's life. Nobody has reached the top of the world as often as this 1.63 metre tall man: He reached the summit 21 times and became a living legend. In 2011 Apa finished his Everest career. Now he is about 53 years old. He doesn't know for sure because in the 1960s no birth certificates were issued for Sherpas in his home village Thame in the Everest region.

read more
Date
9. April 2013 | 14:48