Txikon reaches Camp 2 on Everest
Sunny, but extremely cold. This is what the weather forecast predicts for the next days on Mount Everest. In addition, the wind is to refresh. Temperatures between minus 20 and minus 30 degrees Celsius are expected, Alex Txikon informs. In addition, the wind is to refresh. Nevertheless, the team set off from Base Camp today and reached after seven hours the site of Camp 2 at 6,400 meters. Alex, his Spanish countryman Carlos Rubio and nine Sherpas had previously secured the way through the Khumbu Icefall and pitched up Camp 1 at 6,050 meters, at the entrance of the Western Qwm. It was said, that the team might climb up even to Camp 3 at 7,400 meters within the next days. The climbers are expected back in Base Camp on next Sunday or Monday.
Everything has to fit
Because of the dry winter weather, Txikon and Co. have so far made good progress on the highest mountain on earth. The Basque wants to reach the 8850-meter-high summit if possible in February, but is aware that "a lot of patience, a lot of commitment and luck will be needed" to reach his goal. The great cold in winter normally causes the air pressure in the summit area to fall even further. An ascent without bottled oxygen is then in the absolute limit of the possible. So far, only the legendary Ang Rita Sherpa has managed to get to the top without bottled oxygen. He reached the summit on 22 December 1987, on the first day of calendrical winter, thus much earlier in the season than Alex Txikon is climbing now.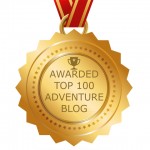 P.S.: My blog was just included in the list of the "Best 100 Adventure Blogs on the planet" – whatever that means. 🙂
Date
19. January 2017 | 11:28