Climate Champ – Provide Environmental Education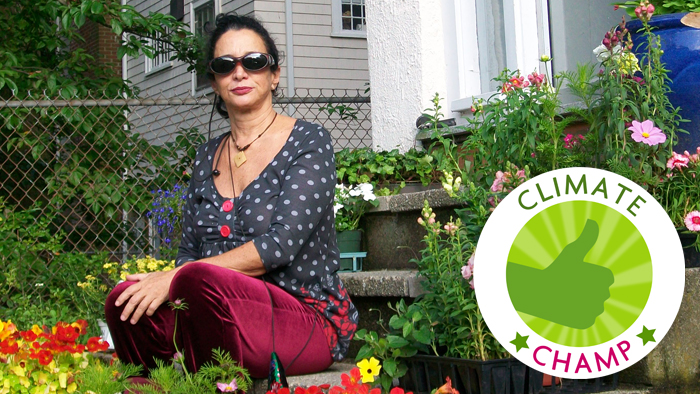 Do you feel responsible for our future? Are you tired of waiting for a breakthrough at climate conferences? If you are already taking action yourself, you are our ClimateChamp and we want to get to know you! Answer our questionnaire to become a part of our new blog series, take your chance to be nominated as a Climate Champ.
1. What is your name? How old are you? Where do you live? What is your job?
My name is Kátia Martins de Almeida. I am 61 years old and I live in Rio de Janeiro, Brazil. I am a clinical Psychologist and I used to live in Boston, MA. Here I was working with streets kids and as a Psychologist in public schools. In 2003 when I came back to Brazil to take care of my mother, I bought land in Cruzeiro. Now I am retired and I live in a two-room-apartment in front of the Sugar Loaf.
2. How does the climate change affect your everyday life in your community?
The community life in the village Cruzeiro had totally changed in the last 5 years. More clearly, on the 12th of January 2011 a huge amount of water came from the sky, with lightening I have never seen before. The massive rain broke 50 tons of rocks of from our granite mountains which rolled over the houses of the village. The river raised 3 meters in 3 minutes. In these 3 minutes we lost the only bridge that we had and 20 houses were destroyed. Furthermore, and even more tragic, 2 people died. Cruzeiro is a small agricultural village with 500 families. Most of the people around here are framers. The community is in total grief because of all their losses and sorrows about their identity: the land was completely mud and they had to move to somewhere else. After that thunderstorm the government did not help us. It is rumored that corrupted politicians had stolen money which the Federal Government gave to the City Hall of Teresópolis (another affected village where more than 1000 people died). Fact is the government did not build a new bridge in our village Cruzeiro, neither they helped us to rebuild the destroyed houses.
3. What trigger event led you to start fighting climate change?
2003 when I bought my land, the Neighborhood Association of Cruzeiro found a water source inside it. With 70 volunteers, they built a pipe leading to the village, where the Association has a water wheel and shares the water for a fee of 6 Real (about 2 Euro). Among others, the collected money is for the bakery, the butcher, the shoemaker and for the 20 family-houses, which disappeared under the water on January 12th 2011.
4. How exactly do you fight climate change?
I founded a non-profit organization in order to make it easier to help my community. In 2009 I was trying to start a project to transform my 400.00 m2 land of natural jungle (in Cruzeiro, Brazil) into a World Natural Reservation.
5. What do you say to climate change deniers?
Denial is a mental disease and must be treated like that. Or they are cynical. I would like to invite them to come to some beaches here in Brazil that are disappearing and also to come to visit the families of the Rio de Janeiro's agricultural belt. We are the salad garden of Rio de Janeiro! If we loose our plantations, Rio will have trouble eating green leaves and fruits.
6. Worst case scenario: What do you think your city looks like 10 years from now, if no action had been taken to fight climate change?
It will disappear because without hope for good future the youth is leaving. There is some kind of "Youth Exodus" in all agricultural villages.
7. Best case scenario: What do you think your city looks like 10 years from now, if more and more action had been taken to fight climate change?
If we provide environmental education to the people who live around the river Rio Paquequer, we can avoid a lot of problems about trash and diseases.
8. Short and simple: What do you demand from your government as far as climate change is concerned?
Stop killing Amazon, first of all! The government must introduce environmental education in the curriculum of all Brazilian schools. The government has to give us sewers or pipes for ourselves to build our sewers and also they have to give us trash bags to pick up heavy trash. Another point is to talk with the farmers to avoid some bad ecological habits.
9. How can interested people take part in your project?
Asking them to come to visit Rio de Janeiro and its rural farms and see the reality that the Media does not show about Rio.