Search Results for Tag: competition
Sustainable Economy in focus of this year's DW photo competition KLICK!
From 17-19 June, this year's Deutsche Welle Global Media Forum in Bonn will spotlight "The Future of Growth – Economic Values and the Media". A worldwide photo competition will honour outstanding images that capture related themes.
This year's photo competition KLICK! is called "Your view of  a Sustainable Economy". The deadline for submissions is April 10. Online voting begins on April 17. Of the ten finalists chosen by the online voting, three winners will be selected by the participants of this year's Deutsche Welle Global Media Forum. First prize is an iPod Nano (8 GB). The runner-up will receive an iPod-Shuffle (2 GB), and the third prize is a USB flash drive.
Entries can be uploaded to the website http://www.dw-gmf.de/klick or submitted by email to klick@dw.de. Deutsche Welle will publish the entries online as part of a gallery and an interactive map at http://www.dw-gmf.de/klick.
Tags
competition
,
deutsche welle
,
environment
,
future
,
global media forum
,
ipod
,
KLICK!
,
photo
,
sustainable
,
win
,
worldwide
Solar Competition

Every 2 years, the U.S. Department of Energy hosts the Solar Decathalon in Washington D.C. It's an international event where 20 different collegiate teams compete to see who can build the coolest, most energy-efficient, most stylish solar-powered home. As you can imagine, the students who take part are really inventive and creative, and the competition always boasts spectacular projects.
The New York Times already featured one team's house, called the Empowerhouse, a "shoebox-shaped mystery building.


The structure was put together in New Jersey by a team of students from the area using a combination of architecture, design, and green technology. The coolest thing? The house not only looks good, but it produces as much electricity as it uses every year – so a zero-emissions home.
But Empowerhouse is just one of the interesting designs being featured at this year's Solar Decathalon competition. You can check out all the latest pictures and news, including news of the big winner when the competition ends, here.
May the best house win!
48 Go Green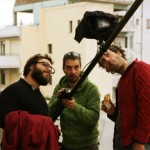 Tomorrow (March 4th) is the very last day of voting for the '48 Go Green' film competition! It's an international contest that calls for filmmakers and producers to make green-themed films–but they only have 48 hours to do so. All the projects are submitted and, with your votes, the online festival will narrow it down to the top eight selections by Friday!
48 Go Green, which was inspired by the 48 Hour Film Project, got started in Athens, Greece back in 2009. It was such a big hit that organizers decided to take it global. Filmmakers can choose any style of fiction film, from comedy to romance to mockumentry–as long as it has an eco-theme. This year, 183 people took part around the world. And the winning film will be screened at the Cannes Film Festival plus $5,000.00–not a bad prize!
You can watch last year's winning film and screen all the official entries for this year, too, so cast your votes!