Search Results for Tag: LEED
Sustainable Highrise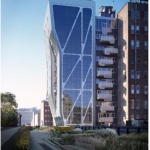 New York is known for a lot of things: its towering high rises, insane traffic and, if you're talking about the environment, air pollution. It's not exactly known for being sustainable–but that might be changing. Los Angeles designer Neil Denari has designed a new highrise for Manhattan's Chelsea district that will be both energy-efficient and sustainable!
The building, called HL23, would take up less surface space on the ground than the dimensions of its floors–and it will be 14 stories high. The builders are looking to get a seal of approval from LEED, or Leadership in Energy and Environmental Design, which is the internationally-recognized green building certification system.
The space inside will include green features like eco-friendly heating systems, an electric elevator without machine rooms (which consume a lot of energy), and recycled paints. The building has already won awards, and it's expected to be unveiled on June 1st–we'll be watching!