Search Results for Tag: New York
C40 Commitment to Change?
The World Bank and the C40 – the mayors of the world's 40 biggest cities – have come to an agreement to fund the fight against climate change! The leaders met in Sao Paulo in Brazil to come up with a concrete plan to cut their respective cities' carbon footprints, and the World Bank promised financial support for those efforts.
Why is that news important? Well, megacities like New York, Rio de Janeiro, Paris and Jakarta are responsible for 12% of the world's greenhouse gas emissions. And all too often, they just don't have the budget to implement green-friendly projects without outside help. Plus, the World Bank released a study at the C40 summit that says around 1 billion people worldwide who are living in big city slums are especially threatened by climate change. So if the 40 biggest metropolises can charge ahead now, we could see some drastic improvements in creating a cleaner planet and a green future.
Do you live in any of the C40 megacities? If so, how has climate change affected urban life there?
Sustainable Highrise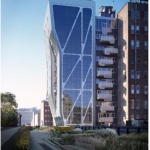 New York is known for a lot of things: its towering high rises, insane traffic and, if you're talking about the environment, air pollution. It's not exactly known for being sustainable–but that might be changing. Los Angeles designer Neil Denari has designed a new highrise for Manhattan's Chelsea district that will be both energy-efficient and sustainable!
The building, called HL23, would take up less surface space on the ground than the dimensions of its floors–and it will be 14 stories high. The builders are looking to get a seal of approval from LEED, or Leadership in Energy and Environmental Design, which is the internationally-recognized green building certification system.
The space inside will include green features like eco-friendly heating systems, an electric elevator without machine rooms (which consume a lot of energy), and recycled paints. The building has already won awards, and it's expected to be unveiled on June 1st–we'll be watching!