Search Results for Tag: map
Faith in Forests
Around the world religious communities and their institutions have traditionally been guardians of forest areas. In a time when biodiversity is increasingly under pressure from pollution, exploitation, markets and human expansion, these religious forest sites will assume an ever more important role, when it comes to conserving what's left of nature. Researchers at Oxford University and the Alliance of Religions and Conservation have compiled a global map of religious forest sites. They say that,
Religious groups own 5-10% of global forests and influence much more, in addition to their investment in commercial forestry and consumption of wood and forest products.
Here's their map. Zoom in and click on the markers to find out more about each forest site:

Mapping the world's plant and animal life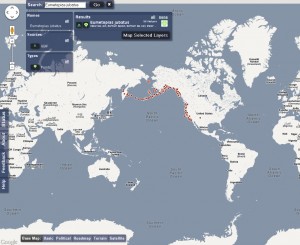 This can become one of the most interesting projects for people who are interested in nature, biodiversity and, of course, the impact climate change on our environment. A team of researchers from Yale and the University Colorado at Boulder have an unbelievable idea. Their plan is to map the distribution of all plant and animal life on earth. This May they have started a demo-version of their Web-based "Map of Life".
The google maps based tool will be growing constantly, the researchers say. Right now it presents over 25,000 different species of terrestrial vertebrates and North American freshwater fish. But even in this state of being the idea comes crystal clear where this map is going to be within the next months. "Map of Life" uses data from field guides, museums, citizen scientists and groups like the Global Biodiversity Information Facility, the International Union for the Conservation of Nature and the World Wildlife Fund.
Right now it's possible for the users to search by species, viewing a map of all known distributions, or to view a list of all species records in a specific range of any spot on the map.
The developers also provide a blog to inform about the newest developments on the map.