Search Results for Tag: marine
Clean Energy vs. Environment?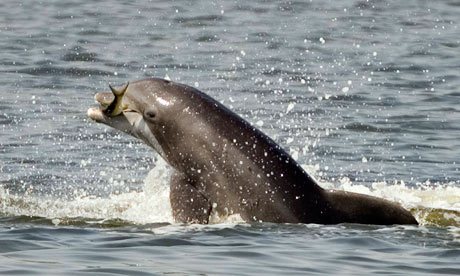 Turning to renewable energy sources is an effective way to tackle climate change, but does it damage our environment too? A lot of critics say biomass production exploits important land and offshore windparks disrupt the marine habitat.
The German government is trying to find a way to address the offshore windpark problem with a new solution: a sort of bubble-curtain. The problem is, construction in the Baltic Sea produces a lot of noise underwater, and that creates problems for whales and poropoises that use sonar signals for communication. So officials are proposing a type of low-cost technology that would release bubbles from the sea floor and mute a lot of the noise. That way, the drilling and pounding wouldn't be quite so disruptive and marine life could continue communicating as they do now. If it's successful, the bubble-curtain idea could be used on several other underwater construction sites!
Scotland's Marine Atlas
Scotland has put together a marine atlas to chart its biodiversity and help marine planners make development decisions along the country's coast. The Scottish government has made the entire atlas and a variety of information available online, but they also put up this video as a guide.
The atlas helps us understand the state of Scotland's seas. That's important for scientists who want to study marine biodiversity in the region. And the atlas is a kind of manual to help developers understand where they need to be careful of precious sea life–from coral reefs to animals. And last but not least, it helps environmentalists understand the challenges Scotland faces in preserving its biodiversity, too.
Should more countries invest time and research into a marine atlas? How would it benefit the marine life where you life?
Dire Straits for Coral Reefs
It's no secret that coral reefs around the world are under threat because of climate change. Coral reefs represent some of our most important natural resources, providing livelihood, food and protection for marine biodiversity. And now environmentalists say 75% of our existing coral reefs are in the danger zone.
According to a report called "Reefs at Risk Revisited," overfishing, warmer waters and pollution are among the biggest culprits endangering reefs today. Also, pwards of 500 million depend on reefs for sustenance and income. And it's only going to get worse in the next 20 to 50 years.
So what can we do? Cutting down on water consumption and pollution will in turn slash our CO2 emissions, which is a big plus. But also support reef-friendly businesses whether you're fishing, boating or snorkeling! And raising awareness is also key. Here's one way to spread the word: send coral reef e-cards from The Nature Conservancy!