Search Results for Tag: sora
Sweet (and clean!) ride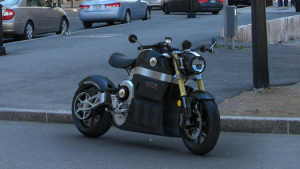 It's been called "sexy muscular perfection" and "the bomb" by industry magazines: it's the new Lito Sora motorcycle by Canadian company Lito Green Motion. With its sleek black and steel design and it's powerful features, even skeptics seem to be won over by the Lito Sora.
Appearances aside, this motorbike packs a punch when it comes to performance, too. The company says the Lito Sora can go 300 km (185 miles) between recharges thanks to its 12kWh lithium battery. So you could zip through the streets for days at a time without ever having to charge up. It's fast too–it can go up to 200 km/h (or 125 mph). There's even a GPS system that's already integrated into the bike's management system: not only do you get directions, the Lito Sora tells you how much power you need to get there, too.
Who knew electric could look so good?