Search Results for Tag: traffic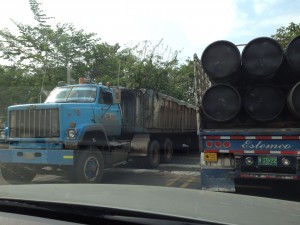 The road from Santa Marta winds along Colombia's Pacific coast to Bogotá. It's one-lane traffic and the path is dotted with potholes. Massive trucks idle in impossibly long lines: tankers, timber trucks and hazardous material transporters all share the same road because it is the only one that takes them to their destination. The landscape along the ride, though, is beautiful: lush, green mountains line the road, carpeted with palm and banana trees as well as ferns. But the idyllic scenery has a darker side, too: here, FARC guerrilla fighters used the thick green canopy to hide kidnapping victims and hold them until they received ransom money in return.

read more
Tags
bogota
,
climate
,
Colombia
,
family
,
farc
,
farming
,
land
,
latin america
,
palmalianza
,
plantation
,
traffic
Take a deep breath in Laos
As a Journalist from Berlin, traffic in Asian cities is usually quite chaotic and for foreigners mostly an adventure. In Mumbai, India crossing a street could be a struggle of survival as one has to pass a mixture of motorbikes, cars, cows and rikshas. It's the same in Bangkok,Thailand – just without cows.  The worst about the traffic is not the chaos, it's the pollution. The air people inhale is filled with dust, it sticks on the skin and it is also full of emissions polluting the air.
In Laos, the chaos has not arrived yet. The streets of its capital Vientiane are quiet and mostly empty. There are just a few bikes, scooters or motorbikes – sometimes a car. That keeps the CO2-emission low: 2010 Laos emitted a little more than 1,5 million tons, the United States for example 5,7 billion tons. Another reason is, that Laos has no heavy industry. But it would be a mistake to think of Laos as climate-friendly country where everyone could take a deep breath of clean air. Because it is not people's climate-awareness that makes Laos climate friendly. The reason is the poverty of the country. The Human Development Index lists Laos as a one of the poorest countries in the world. People just can´t effort a car.