Search Results for Tag: wind
DIY: Wind Turbines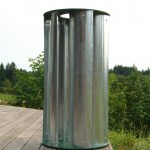 Making your own wind turbine might seem like an impossible feat, even for an expert DIY-er. But according to one man in the U.S., it's not all that hard. Mike Marohn from the state of Washington came up with an at-home wind turbine as a way to heat his water. And it turns out, it's not that expensive or complicated. All it takes is a little shopping at your local hardware store and online!
His creation is called the 'Zoetrope,' and it's a vertical-axis wind turbine made from ordinary things like a stove pipe and plastic sheeting. And the best part is, Applied Sciences has decided to make the Zoetrope open source–meaning they've made the instructions available to everyone on their site, from the manual to a special video. So you can take those instructions and use them to build your own Zoetrope wind turbine, adjusted to the conditions where you live.
Harnessing Vietnam's Wind Power
Vietnam has incredible potential when it comes to renewable energy. Because of its geography, it's a prime spot for producing hydropower or wind energy. Still, energy consumption in Vietnam remains entrenched largely in fossil fuels.
The German Society for International Cooperation, or GIZ, is helping the Vietnamese government and private investors find the best way to plan a green future for the country. GIZ workers are also helping train people in Vietnam to work in renewable energy fields–especially in harnessing wind power. Check out this Global Ideas report and let us know what you think!


1
2