A living goddess or the living dead?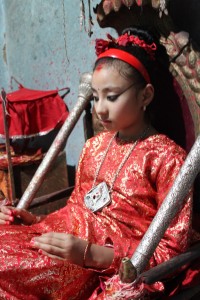 I was traveling to Nepal from Pakistan and attending a conference on gender integration in the cultures of South asia, but an incident made me extremely pessimistic.  Women Talk reader Sidra Saeed describes her experience.
One day, I met Kumari as I was on my way to Bakhtapur Darbar square with two other friends from Pakistan. I was not able to sleep comfortably after that moment, until I reached home and tried my best to forget everything that I had seen and heard about Nepal's living goddesses.
She was made Kumari a year back when she was only seven years old. This innocent child was just right in front of us, sitting on an ornamented chair with makeup. The very first glance at her sent a wave of sadness through my soul. She was shivering and hada strange fear in her eyes that were wandering and searching for some place to escape.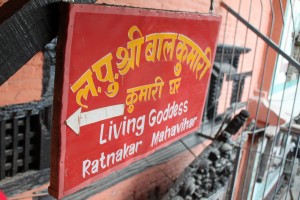 Kumari or Kumari Devi is the tradition of worshipping young pro-pubescent girls as manifestations of the divine female energy or the "Devi" in Hindu religious traditions. Under the custom, after every four or five years, the head of all the temples selects three out of 50-60 female children around seven years old and finally selects one of them who is called the Kumari.
This child remains in a certain room inside the temple until puberty. This girl cannot get married throughout her life. Spending four to five years in one room when she should be hanging out with friends, learning new things, going to school and dreaming of becoming something great in life made my heart heavy. Above all, forcing a human being to stay unmarried (a virgin, practically) throughout her life is the complete negation of nature.
The frightened gaze of that girl and uncertainty in the voice of her brother who was staying there with her reminded me of a bird that I once found in our backyard who was trying to fly but its right wing was badly hurt and that made it feeble and helpless.
This post was contributed by Women Talk reader Sidra Saeed. If you want to express your opinions, write to us at womentalk@dw.de.