'Delhi is scary'
Sunday night's episode of a 23-year-old medical student being brutally gang-raped inside a moving bus in India's capital, New Delhi, has shocked everybody. Our blogger Debarati Mukherjee got in touch with few women residing in Delhi and asked them how safe they felt in the capital.
A young journalist by profession, Bohni Bandyopadhyay, who has to travel across the city for work, says, "I am not originally from this city and even after living here for nearly four and a half years, I still don't feel very confident about moving around in the city. The general behavior of men towards women here is not at all humane. Women are not respected at all and therefore, the increasing number of rape cases is not much of a surprise. After 7 pm, I only feel safe travelling in a car or in the metro. Walking down the road or taking an auto is a scary option."
Tressa Dsouza has been living in Delhi for the last twenty years. She points out that women safety is a concern throughout India and not limited to Delhi alone. "Earlier, whenever there were cases of women being raped or assaulted on the road, I however tried to defend my city's take on it. But Sunday's incident has changed my opinion. I wonder what kind of security the state is offering to its residents especially women. Women are God's most beautiful creation, they have the power to regenerate the world, why destroy them for sheer lust? I used to think travelling with a known companion or a trusted family member would keep me protected, but Sunday's incident stunned me," she says.
Oendri Neogi is a 25-year-old advocate practising in the Supreme Court of India. Being a fellow of legal studies, Oendri questions the government's behavior towards the increasing assault cases in the national capital. "The capital city seemed to be the best place to me until Monday morning when I woke up to the news of another gang rape. This kept me wondering, where have I been living all this while? Delhi over the period of time has become so unsafe for women that I am even considering moving, as it is quite apparent that whatever has happened yesterday could have happened to me, or as a matter of fact, to any other woman in Delhi. Our honorable Chief Minister, Sheila Dikshit shows her dismay and says "strict action" would be taken against the attackers. But my question to the Chief Minister is, why do we need to wait for such things to happen to take action?"
Anindita Dey completed her MBA from one of Delhi's prime institutes. She is presently working in Kolkata but has plans to move back to Delhi after her wedding. She is aware of the increasing number of sexual assaults on women. But Anindita believes the situation is controllable from a woman's point too. "If you know there are perverts moving around in the city and they are looking for a prey, do not stay out till the wee hours of the night or tread alone. Just be conscious of your surrounding every time you are out of your house. I used to stay in Rohini, which is considered unsafe for women. I saw men following us on the road, they passed lewd comments, but I have never seen such serious crimes on the road earlier. This incident is shocking, but I still think women need to be alert all the time to protect themselves from unwanted events. The city is full of life and great career opportunities; let's look at the better part of it too."
An Armenian national by birth Gayane Hakobyan is presently in Delhi to learn Hindi at  the Bharatiya Vidya Bhawan.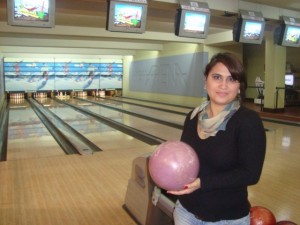 Although she feels lucky to not have been a part of the city's malicious side, she says, "I came across a true story of a 15-year-old girl, who went missing from her house. Later on, it was found that she was made an object of physical enjoyment for a group of guys. Among them one was her so-called boyfriend who promised her a better life. These kinds of cases keep happening in India. I think all parents, teachers in schools and the media should make women and girls aware of the fact that travelling alone in the night is dangerous and relying on a stranger easily is the most dangerous mistake. What happened to this young girl is dreadful. But the point is, why take public transport on a Sunday night when you know the roads are not safe, "opines Gayane. However she also asks the Indian government a question, "The land which is known for women worshipping with hundreds of women Goddesses- Is this how you keep your women?"
Author: Debarati Mukherjee
Editor: Manasi Gopalakrishnan