Dating app Happn 'corrects destiny'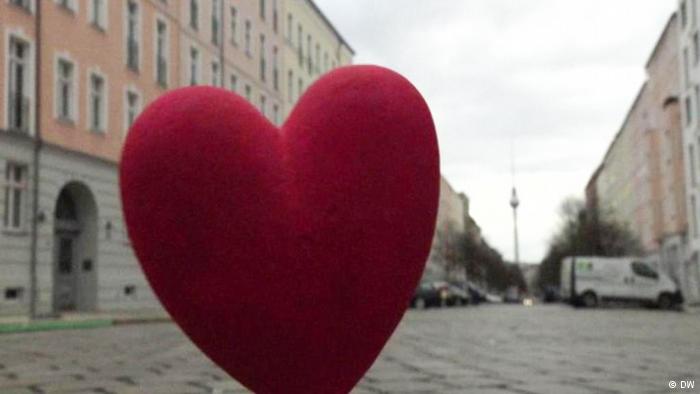 Valentine's Day is coming and there's a new dating app on the smartphone scene: Happn. It helps people get in touch who have actually crossed paths in real life. Does this geolocation feature help to find "the one" or is this a privacy trap?
Paris may be "the city of love" – but when it comes to finding a partner, the situation in the French capital is not particularly easy. According to a recent poll, 51 percent of the Parisian population is single.
But a new dating app could change that. Happn is the most recent addition to smartphone applications like Tinder and Lovoo, which tap your Facebook profile and use geolocation to help match you up with others nearby.
But what sets Happn apart is that it populates your feed with people whom you have actually crossed paths with in real life.
Random ratings
Thuy-Vi, a 26-year-old from Agen who recently moved to Paris, is a Parisian single. She says it is hard to meet girls in the city. She tried using a few location-based dating apps on her smartphone – like Tinder – but says she didn't like it.
"I'm not really fond of dating apps. I don't believe in them," she says. "I think it's really unnatural … the way we rate people, randomly like this. I don't really like this idea."
But maybe Happn could change Thuy-Vi's mind.
Happn was created by three Frenchmen – Didier Rappaport, Fabien and Anthony Cohen – about a year ago. They describe the app as making full use of the geolocation service on our smartphones.
Instead of connecting you with strangers who are in your area via a location-based app like Tinder, Happn lets you contact people you've crossed paths with in real life.
'Correcting destiny'
Elegant concept, clean interface – but the platform is not very populated in many cities
You first link your Facebook account to the app. Once that's done, you can put your smartphone in sleep mode and spend the day as you would normally.
The app is always working in the background. When you open it later on in the day, your feed will show profiles of users who took the metro with you, walked down the same city street, or frequented the same cafe.
Didier Rappaport, one of the developers of the app, explains his goal:
"They may be people you've noticed or people you didn't notice at the time," he explains. "So when you look at your feed on Happn, you can say, 'Oh, I would have liked to have met that person,'" he says.
"Happn corrects destiny."
Freemium model
The app is free to download on Apple's iOS and Google's Android platforms. A user would pay for certain functions, such as sending "charms" to strangers you've crossed paths with.
Csilla is a 28-year-old living in Budapest. She discovered Happn a few months ago – and loves it.
"The fact that you cross paths with people during the day gives you a good excuse to start to talk to them," Csilla says.
Although she's had fun with it, she still finds it "weird that you can track where you met other users."
Privacy concerns
Happn's tracking feature could discourage people from using it.
For it to work properly, the geolocation service on your phone needs to be on all the time. And that means Happn is always tracking you, too.
But Rappaport says his company has a tight privacy policy.
"We wanted to protect our users – that's why we made the geolocation imprecise," he explains. "Today, we are able to geolocate people very precisely. But Happn [only] locates with a precision of up to 250 meters."
According to Rappaport, that means that in a big city like Paris, people cannot be tracked through the app.
The Pont des Arts is one of Paris' many romantic landmarks
French success story
The fears some might have over Happn's geotagging haven't stopped the app from becoming a success in France: The dating software has just reached the 1-million-user mark, and is now a serious competitor to Tinder.
For now, Rappaport and his team of 25 are concentrating on big capital cities. The service has recently been gaining traction in London, Madrid and Budapest.
The company is now working on highlighting places frequented by its users, such as museums, nightclubs or bars.
Author: Fabien Jannic-Cherbonnel
WTO RECOMMENDS
Romantic interaction between man and machine – that's what dating sims offer. Nowhere in the world are these emotionally-laden games as successful as in Japan. A new version of "Love Plus" has just been released for the Nintendo DS mobile game console. With it, players can have virtual schoolgirls accompany them through their lives.
Almost everyone has an opinion on a woman's appearance. Some people just have the decency to keep it to themselves. From the length of her skirt, the tightness of her jeans to the depth of her cleavage, from the height of her heels to the color of her lipstick: we are all guilty of judging people by their exterior.
Since ancient times, priests and family elders have been referring to newly married Hindu women as "Sumangalis," meaning women who still have their husbands by their side and thus lead a blessed life. Today, however, the word has taken on a sinister meaning for women working in textile mills in southern India.