Women in the News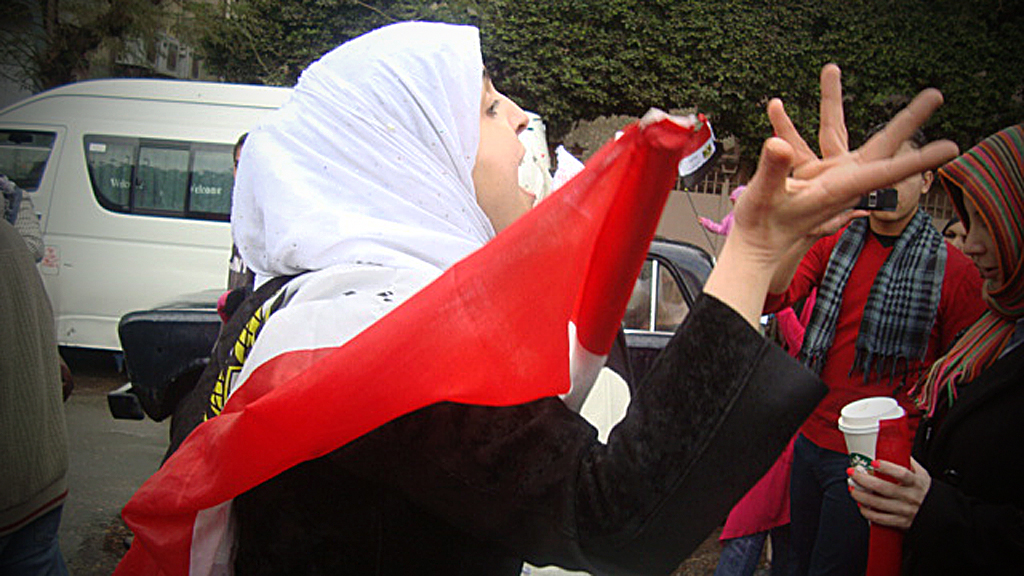 © Reham Mokbel
A report by International Federation for Human Rights suggests men, women and children are being abused after the Egyptian military takeover in July 2013. Read more news about women here.
Egyptian authorities using sexual violence on 'massive scale'
Egyptian security forces are using sexual violence against detainees on a massive scale, according to the International Federation for Human Rights. A report by the organisation suggests men, women and children are being abused "to eliminate public protest". Read more here from the BBC.
Male staff removed from school after 'sex attacks'
The authorities of capital's Mohammadpur Preparatory Higher Secondary School suspended the rector of its girls' wing and two male staffs for "negligence" in duty amid uproar over alleged sexual assault on a grade-I student by a male staff. Read more here from the Daily Star.
Exposing Scientology's abuses against women
This is an organization that feminists should be on the frontlines attacking.
Skepticism about the church—or is that cult?—of Scientology has been mounting since the religion first began in 1953. But it wasn't until the last few years that the attacks have moved from the fringe to the mainstream. Several high-profile members, including top execs and celebrities like Paul Haggis and Leah Remini, have very publicly defected. Read more here.
Vulnerable groups face trafficking risk
Human trafficking is a serious problem in Nepal, where women and children are frequently smuggled across the porous border with India and forced into slavery. As Liesl Gerntholz from Human Rights Watch explains, it's easier for traffickers to prey on vulnerable groups in the wake of a natural disaster. Read more here.
A rape victim seeking justice in Pakistan
A former caste-based slave from Pakistan recounts her brutal rape and abuse by relatives of her powerful Punjabi landlord in a land where slave owners can apparently get away with rape and murder. Read more here.
Afghan policemen get 1 year in jail over mob killing of young woman
Eleven policemen have been convicted and sentenced to one year in jail and eight have been freed over the mob killing of a woman in Kabul. They were accused of dereliction of duty, looking on as the woman was beaten. Read more here.
"My life in Afghanistan is more normal than people assume"
Ronja von Wurmb-Seibel is a German journalist and author of "Ausgerechnet Kabul" (Kabul, of all places). Her book is an account of her time in Afghanistan and provides an insider's perspective on the country, going beyond the subjects of burqa, Taliban and the role of the German Army in the country. Read more here from Qantara.
Why did a woman walk the Paris Marathon with a water jug on her head?
Ethiopia's Meseret Mengistu was the women's winner of the 2015 Paris Marathon, but the story of marathon participant Siabatou Sanneh of Gambia captured the world's attention. In her worn sandals and brightly colored traditional garb, Sanneh, 43, trod cobblestone roads carrying 45 pounds of water while wearing a sign with the translated words, "In Africa women cover this distance every day to find water. Help us to reduce this distance." Read more here.
The trouble with invisible success
Across the Middle East, women are breaking new ground in the business world: establishing companies, expanding into new markets and taking on high-level corporate positions. Yet one important difference remains between them and their male counterparts and it's holding their sisters back: a reluctance to be public about their accomplishments. Read more here from BBC.
Life as a stepmother is no fairytale – I feel sorry for my wife
The children are angry and vulnerable, the father sides with them out of guilt, and stepmothers are just expected to suck it all up. Read more here from the Guardian.
Tags
Abuse
,
Ausgerechnet Kabul
,
egypt
,
Farkhunda
,
feminist
,
Human Rights Watch
,
Kabul
,
Middle East
,
nepal
,
Ronja von Wurmb-Seibel
,
sex attack
,
sexual assault
,
sexual violence