Women in Bhutan – More than nightlife and Shangri-La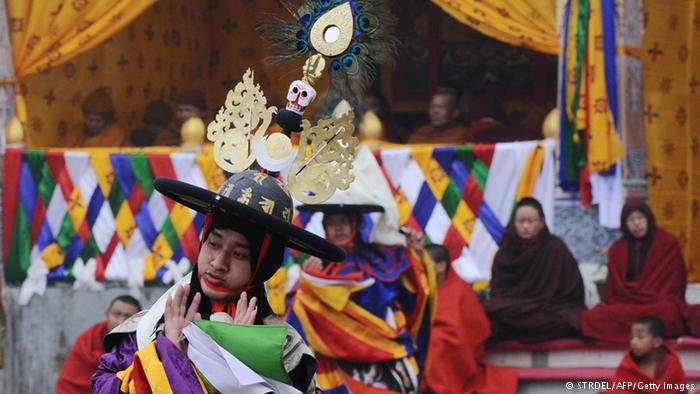 Bhutan is often described as the last "Shangri-La" in the world. The country is undergoing a tremendous modernization process. There are better roads, schools and healthcare. More people are receiving an education.
Moreover, the situation is changing for women. Gender equality and women's empowerment have become a topic of conversation at least. There is still a lot to be done.
Recently, I visited a nightclub called Drayang. There were heavily made-up women on stage and the mainly older, balding male audience was waiting for them to dance.
When they started dancing, they had blank facial expressions. Some younger men joined them on the stage.
Each time, a dancer passed by, a man would grope her. I wondered what they were thinking. I also wondered if men were putting something in their drinks…
A beautiful tall woman came to me with a pen and notebook and asked me to request a song. "One song costs 100 nu (ca. 1.5 dollars) ma'am. I will dance my best for you."
Perhaps she understood that I was new and wanted to explain the situation or perhaps she did not want to go up to a man nearby with a fat belly who seemed to have more money than me.
I gave her the money and waited for her to go on stage. She was really one of the best dancers I have ever seen: "Such talent being wasted," I thought. We talked later and she told me that she was working here so that she did not have to depend on her alcoholic husband. She was proud that she could look after her two-year-old daughter and one-year-old son on her own.
I went back the next week. The woman on the counter told me she had filed a rape case against her stepbrother. Since she was a nightclub dancer, he had thought he too could abuse her.
I wrote this letter because I want to show that women who are simply trying to earn a living in nightclubs are subject to sexual harassment, molestation, eve teasing and looked down upon as having low moral values. There should be more concern for people just trying to feed their families. There should be better rules and regulations to protect them.
Author: Yeshey Choden
Editor: Marjory Linardy
This is a contribution from one of our readers. If you would like to contribute, please send a message to womentalk@dw.com or to DW-Women Talk Online on Facebook.
_____
WTO RECOMMENDS
Changing education landscape of Pakistan
Seema Azis is one of the most prominent business leaders in South Asia. However, she is mostly known for her work in improving the education sector of Pakistan. Aziz runs more than 700 English medium schools in Pakistan for the underprivileged. (From March 8, 2017)
As I started to write this blog today, a fellow journalist back in Pakistan tweeted about an attack on his cousin, a school headmistress in the Charsadda city of the northern Khyber Pakhtunkhwa (KP) province. According to the tweet, his cousin had nearly missed being hit with a bullet and was being treated at a hospital emergency. As I sit thousands of miles away from her, all I can do is pray for her speedy recovery. It breaks my heart to reiterate the fact that the attack on girls' education in Pakistan is far from over. (From June 3, 2014)
When I take a look around the world on "International Women's Day" I am filled with horror.  Millions of my fellow women are fighting for sheer survival. Fighting for a life free from permanent violence, free from fear of their male surroundings. Fighting for an independent existence on a par with the male part of the population. And they are doing all this without much real hope of immediate success. (From March 8, 2017)