UNICEF: 2017 a 'nightmare year' for children caught in war zones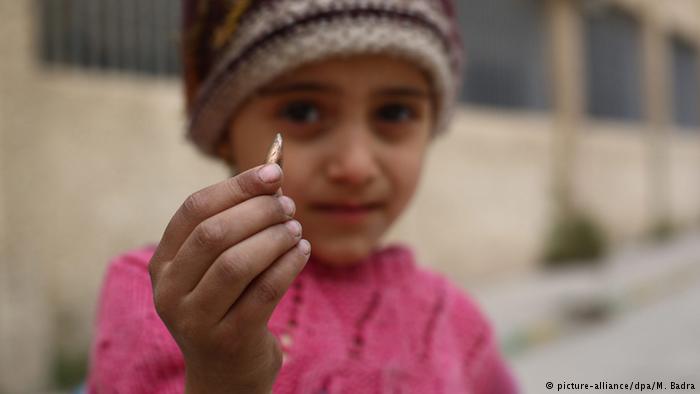 According to UNICEF, 2017 was one of the worst years for children caught in conflicts and besieged areas. From being deployed as human shields to acting as suicide bombers, children have become targets on a huge scale.
Warring parties in 2017 had a blatant disregarded for international law when it came to the protection of children, an official from the United Nations Children's Fund (UNICEF) said on Wednesday.
A UNICEF report found that in conflict-ridden regions across the world, high numbers of children had been killed, used as human shields and recruited to fight.
Read more: The face of suffering children: 'UNICEF Photo of the Year Award 2017'
"Children are being targeted and exposed to attacks and brutal violence in their homes, schools and playgrounds," Manuel Fontaine, UNICEF's director of emergency programs, said. "As these attacks continue year after year, we cannot become numb. Such brutality cannot be the new normal."
Unicorns.
Flowers.
Rainbows.
Stars.
Helicopters.
Planes.
People hiding.
People running.
Bullets.
Burning houses.
Men with guns.
Dead bodies.

What did you draw when you were young?#ChildrenUnderAttack pic.twitter.com/jkTprE18c3

— UNICEF (@UNICEF) 28. Dezember 2017
Children in Africa particularly vulnerable
The report highlighted the long-running conflicts in Africa as among the worst places where children were increasingly chosen as deliberate targets.
In the Democratic Republic of Congo's Kasai region, almost a million children were displaced in the past year alone, while more than 400 schools were intentionally attacked.
In Nigeria and Cameroon the jihadist group Boko Haram used around 135 children as suicide bombers — over five times as many than the year prior.
In Southern Sudan, as many 19,000 children have been forcibly recruited as soldiers since 2013.
Crises in the Middle East
In war-torn Yemen, UNICEF estimated that some 5,000 children had been killed or injured since the outbreak of civil war in the country in March 2015. A worsening food shortage in the country has left almost 2 million children suffering from malnutrition.
Read more: UN: 2017 may be record year for attacks on schools
In Iraq and Syria, around 700 children were reportedly killed in the year to September, while UNICEF reported numerous instances where young people came under sniper fire and were even used as human shields.
The UNICEF reports follows  a bid to draw attention to the plight of children in besieged areas by Pope Francis in his annual Christmas message. "We see Jesus in the children worldwide wherever peace and security are threatened by the danger of tensions and new conflicts," Francis said.
Author: David Martin (KNA)
_____
WTO RECOMMENDS
I see Zahra, and all I see is innocence. And it pains me that this five-year-old has probably witnessed or even experienced hardships that I never have in my 45 years traversing this earth. The resignation in her eyes humbles me and reminds me that much of what I consider "problems" pale in comparison to everything that she's been denied in her five short years thus far.
The plight of the Rohingya Muslims forced to flee the atrocities committed by militants and the army in Myanmar is hard to stomach. The most vulnerable are children, as John Owens' photo series shows.
While the "Islamic State" (IS) has lost most of its cities in Iraq and Syria, thousands of Yazidis it kidnapped are still missing. Activists say some are being hidden within IS families. Judit Neurink reports from Irbil.