Red Carpet Revolt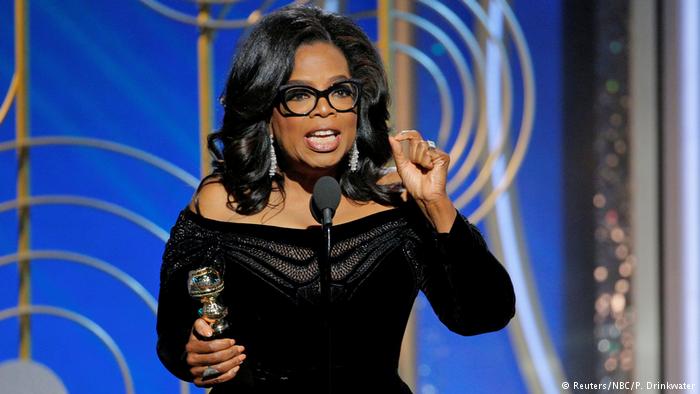 This year the 75th Golden Globe Awards took a rather different turn, intentionally steering away from the glitz and glamour of parading women in designer dresses like cattle. This time the stars banded together to speak up against the superficiality, misogyny, and gender bias that prevails in Hollywood. This comes in the wake of the disclosures about Harvey Weinstein's harassment of female actresses that has since brought down many other powerful male key players in the industry too.

This kind of solidarity among actresses to turn up on the red carpet wearing black and a TIME'S UP badge is a historic moment in the history of the American film industry. Actresses used the red carpet to highlight another issue that has peeved them: being subjected to parading on the GlamCam 360, the Clutch Cam, and the Stiletto Cam, in protest against flaky fashion questions on the red carpet like 'What are you wearing?' Celebs responded with #AskHerMore, in an effort to get interviewers on the red carpet to ask women questions filled with the same substance directed at men. This is a small but significant victory in how we view and portray women.
Time's Up is a call for change from women throughout the industry for deserving women everywhere to step up into leadership positions. Time's Up sheds light on inequality and injustice in the workplace, calling for the inclusion of all women and marginalized people so they may reach their full potential. The campaign has also joined forces with a legal team of advocates to improve laws on equality, employment agreements, and corporate policy issues, and ensuring that wrongdoers don't get away with their conduct. The campaign goes on to highlight that 1 in 3 women aged 18 to 34 have been sexually harassed at work, and yet 71% of those women did not report it.
This campaign opens the door to paradigm shifts in the corporate boardroom that may enable us to see a more exacting representation of marginalized people in the media. Time's Up is armed with a load of facts-based evidence on how unfair the workplace is for women, and it's about time something is done. Time's Up is headed by 300 actresses, female directors and writers in the United States, who have set up a legal fund of about USD 13 million to assist low-income workers to defend themselves against sexual misconduct.
In addition to the sea of black, the highlight of the award show was Oprah Winfrey's thought-provoking acceptance speech when she became the first black woman to be given the Cecil B. DeMille Award. She reminisced how as a little girl sitting on the floor of her home, she watched the 36th Academy Awards when Sidney Poitier won the Best Actor award. She pointed out how significant this was for her, as a young black girl whose mum earned a living by cleaning other people's homes. She was greatly inspired by watching another black person win an Academy award and be celebrated that way. It is this same feeling of acceptance that women from all walks of life today want to feel. Perhaps when  seen on film and in Hollywood, it would encourage our daughters to aspire to dream big, even if they are seated on the 'cheap seats'; that they are reminded that they too have what it takes to become powerful leading women of the world.
While our power to inspire is endless, Winfrey reiterated that the media is under siege for telling the truth. Nevertheless we have to remain dedicated in fighting for the truth to be told, instead of turning a blind eye to injustice. Winfrey's speech promotes the need for women to share their own truths, until that truth becomes their story.
These are the kind of stories that over time become powerful enough to effect change – and go beyond the realms of Hollywood.
Author: Sarona Wolter
Editor: Brenda Haas