How men's fashion reflects a 'fake news' and #MeToo world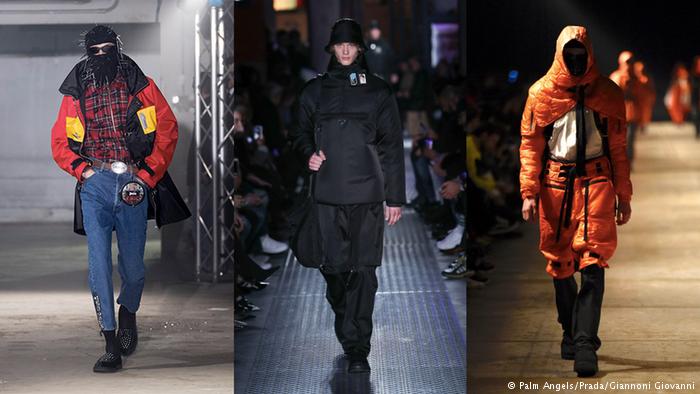 Trends emerging from the fall/winter 2018 men's fashion weeks in London, Milan and Paris show that designers are reacting to current events — by either depicting men as pigs or gearing them up with protest wear.
Fashion had it too easy for too long. But the industry can no longer afford to ignore the ripple effect of Hollywood's sex abuse scandals.
It came as no surprise that Terry Richardson was accused of sexual misconduct with models last October. After all, the American photographer built his reputation on candid shots that were equal part fashion and soft pornography — and let's not forget that the first string of allegations emerged in 2001.
Yet last week's case of Mario Testino and Bruce Weber was of a different caliber: They were fashion's sweethearts; giants whose photography forged stars. They were fixtures in international editions ofVogue — but the magazine swiftly disposed of them when the news broke out.
Read more: Culture in 2018: Trends that will shape society
'Time for change'
Accordingly, the fall/winter 2018 men's fashion weeks in London, Milan and Paris seem to have anticipated the course of history. Feminism, social inequality and fake news made designers take an openly political stance this season. "Time for Change" was a dominant catchphrase in Milan; we will inevitably see more in Paris, where the fashion week season concludes on Sunday.
It would be unwise to dismiss the runway shows as an attraction for a selected few. The trends emerging from the different European fashion weeks directly influence the clothes people buy in ordinary stores later on.
The stronger sex
Will this be the year of the woman as many predict? There is nothing that suggests otherwise looking at the latest designer collections.
In Paris, Men's Fashion Week opened on Wednesday with two collections sending an outright comment on sexual harassment. French designer Julien David presented men as macho dogs while Belgian Walter van Beirendonck's collection featured them as pigs.
In London and Milan, women commanded men's catwalks to the point that the male portion of Moschino's latest offering felt almost like an afterthought. For Jeremy Scott, who has been at the brand's helm since 2013, the gender-fluid show inspired by fetish and sadomasochism was a return to peak form. In a true tribute to Franco Moschino's eccentric style, dominatrixes in lace underwear, leather masks, latex outfits and devil's horns were so fearsome and seductive that their male, conspicuously virile counterparts in cropped tops and suspended jackets looked more like sex toys — mere accessories for pleasure.
And Moschino was not the only instance. Similarly at Versace, the women's looks stood out in what was in other respects a decent men's line, inspired by tartan and hip-hop. At Daks, a brand that is not usually a point of reference in the fashion world, women radiated self-confidence in very lady-like costumes, while male models resembled dull boys in school uniforms, albeit brightly colored ones.
Read more: 'Is My Shirt Long Enough?': Artist Shehzil Malik launches Pakistan's first feminist fashion line
Boys will be boys
It raised a question: In the wake of the never-ending series of controversies, is fashion afraid of men? Apart from a few brands focusing on tailoring for gentlemen and executives who appreciate a fashionable detail here and there, many défilés give the impression that designers find comfort in the idea of a boy who never grows up.
It's not a completely new phenomenon, of course; the overtly sexy and masculine ideal was replaced by much younger and sleeker models at the turn of the decade. Yet, this season, the "garçon" image was reinforced with oversized, father-like coats, shirts, sweaters and pants adorned with fantastic prints, doodles or cartoonish patches.
Marni's Francesco Risso has been catering to those with childhood nostalgia and juvenile taste for two years already, and this season was no exception. Even the older men cast for the show wore dinosaur cut-outs on lapels.
Bobby Abley, a rising star of the London Scene, presented jackets and sweatshirts with the faces of Bugs Bunny, Tweety and other Looney Tunes characters.
Both shows received a positive response from the audience.
Read more: High Five: 5 materials you probably didn't know are used to make clothes
Here comes the resistance
But for most designers, escapism was not the answer to the reality of the world.
Heavily inspired by sportswear and streetwear, "protest wear," which surfaced in previous seasons, has become a fully developed mainstream trend. Neoprene sneakers, light-weight trousers made of technical materials, down jackets, vests, and coats or t-shirts and sweatshirts made of resistant, functional fabrics took the notion of ready-to-wear to a whole new level.
Bodies look almost impenetrable in the dense pile of layers, which is characteristic of the look that values comfort, flexibility and utilitarianism above all.
In Florence, the Japanese brand The Soloist even paired it with quilted masks and hoods that covered the whole face. An emerging brand from London, A-Cold-Wall, equipped models with backpacks and huge belted pockets, and the British designer Christopher Raeburn, who pioneered the style years ago, reused old navy blankets and appropriated them into fashionable pieces.
Rubber boots are the piece of the season.
Distorted, unfinished, deconstructed and distressed pieces presented by predominantly young designers took the idea of "ready-for-barricades" too far, however, and degraded the momentum.
Words of protest?
Thankfully, fashion is still an opportunity to reflect and convey a message for many designers, and so once again, the return of typography goes beyond logos.
The word "change" has become the buzzword of the season and appeared across waistbands, accessories, t-shirts and sweatshirts at N°21, an Italian brand founded by Alessandro dell'Acqua.
Jun Takahashi at Undercover used slogans such as "Human Error," while Bobby Abbley tackled deportations with prints inspired by passports.
Miuccia Prada cited "fake news" as the impulse behind her jackets and coats lined with fragments of meaningless texts. Her use of words as pure design and decoration was particularly unsettling. Unfortunately, the need for excessive branding, which in parts turned the fashion show into a marketing parade, diminished the impact of her message. Or was she just making a bold point?
The gloomy color palette of Prada's collection was not an exception and marked the omnipresent rejection of glamour. More action, and a less aesthetically pleasing experience: This appears to be the message sent by the fashion world this season.
Author: Jan Tomes
_____
WTO RECOMMENDS
Fashion is fleeting, they say. And judging from some of the creations that were sent down the runway this year (and caused a storm on social media), some of us may be glad not to see any of these trends endure.
A few months ago, a white South African friend of mine went to India. She asked me how I would feel if she wore a sari (traditional dress for many Indian women) there. I was somewhat indifferent and wondered why she was asking me since I was not even in India. Since she was there, why shouldn't she wear a sari, I thought. People from other cultures have worn it for years and I'm always pleasantly surprised by how much more welcome they are in Indian circles when they do wear traditional dress.