It's time to close the gap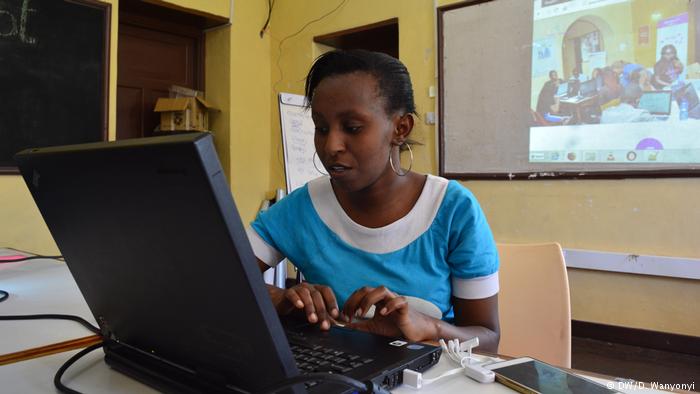 International Women's Day is that time of year when the women of this world get a whole entire day dedicated to gender equality, and this year it was about pushing for progress in the work place. Excuse me if I'm a little jaded, but after a series of interviews with young professional women trying to crack the glass ceiling and secure leadership positions, it seems their dreams are somewhat a pie in the sky, as their challenges keep increasing.
As a South African law student, I sat through hours of gender and equality lectures wondering when I would ever use such information, but now I understand what those formative years were about. I can compare the challenges that women face in developing countries and Europe's first-world nations.
Of 160 market-listed companies in Germany, women make up a mere 6.7 percent of the executive board: There are only 45 women on the executive board as compared to 630 men. If the development continues at this pace, in 2047 only one hird of executive board positions will be filled by women.
Last year, a law was enacted to ensure that 101 listed companies filled at least 30 percent of the supervisory board positions with women. However, there is still no legal obligation to promote women to executive board posts. Ana-Christina Grohnert, a member of the EY management board, says that the fulfillment of the quota in the supervisory boards is proof that women are not being held back by their competence, but rather by the companies' lack of willingness to hire them. She says that there are certainly enough qualified women for board positions.
"I often hear women who complain that their bosses make promises in relations to  job opportunities but then when their bosses fail to meet these requirements, the women keep serving faithfully instead of enquiring or asking for a better position, as most men would negotiate,"' says Anke Nelson, an HR executive in the Netherlands. Women tend to give their all even when they do not get what they deserve and this needs to change.
In sunny South Africa, women have a slightly better chance of having senior positions. South Africa is ahead of the global average, with 28 percent of women in senior roles, compared to the global average of 25 percent. As someone from a third-world country now living in a first-world country, I am astonished how by how few women there are in leading positions here. Developing nations lead the charge on diversity while developed economies lag behind, but this does not mean that the journey to the top is easy.
According to Mindy Shah, an assistant director at an investment bank in Johannesburg, there are many issues that still plague women vying for top positions in South Africa.
"While diversity is strong at lower levels in banking, it still reduces dramatically the more you move up.  There are very few senior clients facing women, as they often move to more back office roles so role models are not easily available to show you how you can progress to the next phase of your career.
I have found that to have progressed to my level, there were a number of things I had to give up. While men at my level have families and lives outside of work, it was not possible for me to pursue this and a career, because any time taken off works against you. In this industry, you have to work long hours, over weekends and travel, which men can still do with a family but this limits what a woman can actually juggle.
I have noticed that while senior men are supportive of people coming up the ranks, it is less so with females and a number of the altercations I have had in a work environment have been precipitated by the actions of females who seem to take things more personally in the workplace.
Once you do get to a senior position you struggle to get the credibility that a male in the same position tends to command. Both younger males and females have an instant respect for  men, however you need to be seen as quite harsh or standoffish as a woman to command the same level of respect. If you do go that way, then the comments about your life (or lack thereof) also increase so it's a lose lose situation.
It is crazy for me that this dichotomy still exists today, making it hard for females to progress, making us doubt ourselves so much more than men do and also changing us along the way (usually for the worse), which it does not seem my male colleagues have to do.
I will say though if you can get it right it is a rewarding career and there are some women out there trying to change things. Having a female in the team makes a huge difference to the dynamic."
Every woman who has borne a child knows the pain and she is not averse to the urge to push for a new life, new opportunities and certainly for progress in the workplace. But how much more do women have to push for parity in the workplace to happen?
My mum dropped out of school to marry my dad. I was born when she was only 17 years old. She had very limited knowledge about childbirth at the time. Later, she pushed me to complete my law degree so that I would have a better chance at an easier life. I know this feeling too well now, as my feminist tendencies grew exponentially when I became a mother of a female child. I am committed to fighting fiercely for a life of better opportunities. What is the point of educating our girls if the society they find themselves in does not enable and encourage their growth equally?
Author: Sarona Wolter
Editor: Anne Thomas