Search Results for Tag: Sharmeen Obaid-Chinoy
Some of the survivors of acid attacks portrayed in a recent documentary about their fates fear reprisals if the film is broadcast in Pakistan. Acid crime affects hundreds every year.
In February, there was jubilation in Pakistan when Sharmeen Obaid-Chinoy became the first Pakistani filmmaker to win an Academy Award. "Saving Face," Obaid-Chinoy's 40-minute documentary, is about the victims of acid attacks in Pakistan.
It focuses in particular on two women, Zakia and Rukhsana, who fight to rebuild their lives after being attacked by their husbands, and ôn the Pakistani-born plastic surgeon Mohammad Jawad who tries to restore people's faces by using artificial skin substitutes, grafts and other surgical techniques.

read more
Tags
Abuse
,
Acid attacks
,
honour
,
marriage
,
Pakistan
,
Pakistani girls
,
Rural Women
,
Sharmeen Obaid-Chinoy
,
suicide
,
women
,
Women talk online
,
women's rights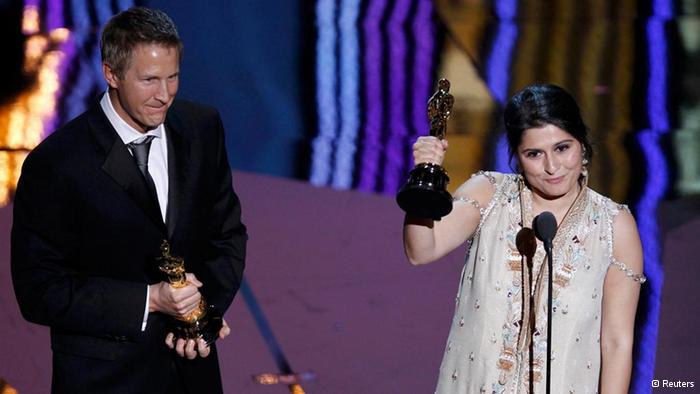 Documentary filmmaker Sharmeen Obaid-Chinoy has become the first Pakistani to win an Oscar ever. Her short film 'Saving Face' looks at the issue of acid attacks on women in Pakistan.
Sharmeen Obaid-Chinoy became the first Pakistani to ever win an Oscar on Sunday. She and her American co-director Daniel Junge won the coveted prize for Best Documentary (Short Subject) for "Saving Face."
The documentary chronicles the lives of two acid attack survivors, Zakia and Rukhsana, and the arduous task to bring their assailants to justice. It also focuses on the work of British-Pakistani plastic surgeon Mohammad Jawad, who moved to Pakistan to help restore the faces and lives of acid attack survivors.

read more