Mysterious death of two Sherpas on Makalu
How could that happen? Two Sherpa mountain guides who were working for an expedition of the German operator Amical alpin died in Camp 2 at 6,700 m during a summit attempt on the eight-thousander Makalu. Other group members found the two Sherpas lifeless in their tent in the afternoon. "We can only speculate," Dominik Mueller, head of Amical, tells me. "We suspect that they cooked in their closed tent without providing adequate ventilation and then died of carbon monoxide poisoning."
Small error with fatal effect?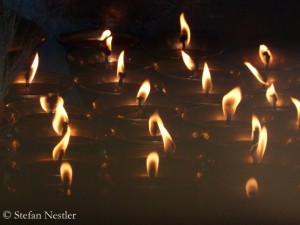 Dominik is shocked and can't find an explanation how the accident could happen. "I knew them. They were very experienced Sherpas", says Mueller. "They were also rested after some days in Base Camp, not stressed. It happened without any external influence. I suspect that they made a small mistake which had a fatal effect." The head of Amical stresses that it is too early to make a definitive statement about the cause of death. He wants to talk to the other expedition members to get more information. According to Dominik, the Amical expedition group on Makalu, with a height of 8,485 m the fifth highest mountain in the world, included four Sherpas – and nine western climbers: "They are all very experienced. Therefore they wanted no expedition leader and take care of everything by themselves."
Carbon monoxide poisoning caused by gas cookers in a tent is rare, but happens now and then – also in the Himalayas. Just before the disaster on Mount Everest in spring 1996, yesterday 20 years ago, Arita Sherpa and Chuldum Sherpa, who belonged to the team of the New Zealander Rob Hall, were not able to take part in the summit attempt that later ended so tragically. They had suffered a carbon monoxide poisoning while cooking on the South Col and were not able to climb.
Date
11. May 2016 | 14:55