Kobusch: "I thought I would die"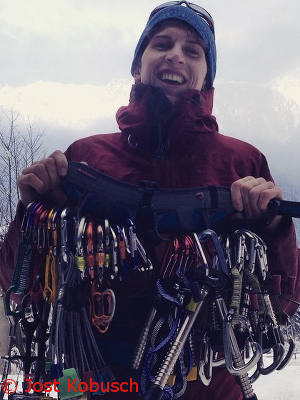 A video of two minutes and 28 seconds has made Jost Kobusch known throughout the world in one go. It shows the huge avalanche from the seven-thousander Pumori that was triggered by the earthquake in Nepal on 25 April and devastated Everest Base Camp. 19 people lost their lives. Jost survived and put his video online on YouTube. It spread like wildfire. The 22-year-old German climber grew up near the town of Bielefeld. Talking to me, he called himself a cosmopolitan: "I travel a lot. Last year, I lived in Kyrgyzstan for six months, in Nepal for two months, in Svalbard for two month and in Japan for a month. There was not much time left for my home address." At the end of May, Kobusch wants to return to Nepal to help where it is possible. Afterwards he will travel to Kyrgyzstan, to the village of Arslanbob, some 200 kilometers southwest of the capital Bishkek, where he plans to initiate a climbing project with local people. I talked to Jost about his experiences after the earthquake in Nepal.
Jost, what did you think this week when you heard about the new earthquake in Nepal?
I was sitting in front of my computer and received on Facebook a message from a friend who wrote: We survived. Till then I had not heard anything about it. I immediately wrote to all my Nepalese friends whether they were doing well. A friend, who normally replies promptly, did not answer, neither in the evening nor the next morning. I started to get worried. Fortunately, she replied after all. She wrote that they were now living in a tent, because it was safer. That made me a little bit nervous. I'll soon go to Nepal. I worry about my own safety.
Almost three weeks ago, you survived the avalanche that hit the Base Camp at the foot of Mount Everest. 19 people were killed. How narrow was it for you?
If you look at it from the outside, it may look as though it was not narrow. But in the moment, when I was right inside the avalanche, I thought for a minute that I would die.
The avalanche came out of nowhere. Were you able to think anything or did you react instinctively?
Absolutely instinctively. You don't think in this situation. It is a mixture of experience and instinct.
How did it look like at the Base Camp after the avalanche?
I had fled behind a tent. When I came back, I found a completely different world. Everything was covered with ice, tents were crushed, prayer flags were lying on the ground.
What did happen afterwards? Was there pure chaos?
We mountaineers are accepting the risk. Therefore, most of us are mentally better prepared for such things and react with certain professionalism. It was not pure chaos. People just tried to organize the rescue operation. All wondered what just happened. And all knew it was something big. The next step was a certain depression. Everyone realized that his dream was gone, at least for this year. Silence covered the Base Camp.
Were there still climbers who said we don't care, we want to continue climbing despite the earthquake and the avalanche?
Yes, I was one of them. And there were quite many others. However, we quickly realized that we were too optimistic. The main problem was the aftershocks. We had information that they should continue for two weeks. For two weeks we would not be able to do anything, for two weeks there would be the risk of collapsing seracs in Khumbu Icefall. I quickly realized that due to the lack of time I would not have any chance to reach the summit, Camp 4 would be the maximum.
How did you experience Nepal on your way back?
First the tragedy was still far away. But when I walked out and reached Lobuche [a settlement about eight kilometers from Base Camp], I saw the first collapsed walls. Later we also passed houses that were completely destroyed.  Back in Kathmandu, I visited the places I knew from before, e.g. the Durbar Square, where only bricks are left. It made me realize how comparatively insignificant was what we had experienced at Everest Base Camp and that other people need much more attention and help.
Why do you want to return to Nepal at the end of May?
I want to help making progress. I will support various fundraising campaigns by visiting their projects, taking pictures for them and being their local contact. And I want to lend a hand where it is possible.
Do you have special manual skills?
My father has been running a carpentry. Thus I grew up with the craft practicing it every once in a while. I prefer to work directly with Nepalese people. I don't want to be the white man who has money in his pocket and distribute it. I want to build up something in a team with local people.
Your video of the Everest avalanche was the first one that was published. Suddenly there was a huge global media interest. How did you experience this?
First I had not heard anything about it. It took me eight hours to upload the video at the Base Camp. A few hours later, it had two million hits, then five, seven, twelve, 14, 16 million [Meanwhile, more than 22 million]! When we saw that our video was shared so often we felt almost euphoric. That was a strange feeling. For us, this video was actually only a testimony that we had survived the avalanche.
Last year, you scaled Ama Dablam, climbing solo. This year you initially had planned to attempt Lhotse, again solo and without bottled oxygen. Do you still want to do it?
Actually, I've noticed this year that it's too crowded on Everest. I had to wait for three hours in a traffic jam in the Icefall. And I was in Camp 1 only once in four weeks. Despite the frustrations I still find the project very exciting. But my feeling right now is rather that I'll do something else.
Will that be your climbing style for the future: solo, without breathing mask?
It is somehow my niche. I really like these solo climbs. To do it alone and unsupported, is unusual and the most challenging way.
Date
17. May 2015 | 16:07