Search Results for Tag: Arctic
Is he really getting old after all? Sir Ranulph Fiennes has back trouble. Britain's best-known adventurer had to be flown off from Aconcagua by a rescue helicopter at the beginning of the week. On the highest mountain of South America, the 72-year-old suffered from so bad back pain that he could not continue his ascent to the highest point on 6,962 meters. "I was within just a few hours of the summit but problems with my back meant I couldn't continue," Fiennes said. "I'm very frustrated, but I've learnt that at my age you can't ignore any pain."

read more
Date
19. January 2017 | 21:30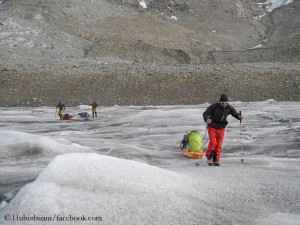 Sometimes climate change puts a spoke in adventurer's wheel. Actually, German top climber Alexander Huber and his teammates from East Tyrol, Mario Walder, Bruno Schneider and Christian Zenz, had planned this summer to free climb the South Face of Tupilak in East Greenland, 16 years after the first ascent. "This is an absolutely awesome, steep wall," says Alexander. "But we have not even got there. It was impossible to walk 40 to 50 km to the mountain without the use of sledges." The bare glacier ice without snow cover and the small stones on it had wrecked the Pulkas, the plastic sledges, within only one third of the distance. The four climbers had taken their skis in vain.
Alexander Huber had already visited East Greenland last year, but in another season. "You just cannot imagine in arctic winter that everything is completely free of snow in summer. This shows quite clearly the effect of climate change", tells me the 47-year-old, the younger of the two Huber brothers. "It's very unusual that the zero-degree line in Greenland is permanently at a height of 2500 to 3000 meters."

read more
Date
5. October 2016 | 8:26
The man took me to the North Pole six years ago. Thus I owe Thomas Ulrich a lot. At the time of our last degree expedition, the 47-year-old adventurer from Switzerland proved to be a prudent and motivating expedition leader. Also this year, Thomy led a group on skis, pulling sledges, the last almost 120 kilometers from the 89th degree of latitude to the North Pole. A week ago they reached 90 degrees north. In contrast to 2009, Ulrich did not fly with the other expedition members by helicopter back to the Russian ice station "Barneo".  Thomy wanted to ski towards Canada, solo and unsupported. His destination: Ward Hunt Island, 800 miles from the North Pole. Ulrich thought that it would take him 30 to 40 days to reach the island. Previously only his Norwegian friend and former expedition partner Borge Ousland had soloed the distance. But after a few days Ulrich turned around again.

read more
Date
21. April 2015 | 22:18