Search Results for Tag: Disaster 1996
The good weather window on Mount Everest has not yet opened. "Heavy snow in Everest Base Camp at the moment," American Dan Mazur, expedition leader of the operator Summit Climb, today wrote on Twitter from the Nepalese south side of the mountain. "Our Sherpas are working high up on the mountain, carrying oxygen, ropes, tents, food."  On the north side of Everest, the Americans Adrian Ballinger and Cory Richards climbed today to an altitude of about 7,600 meters. "For just today, I'm pretty sure Cory and I were the highest people on the planet", Adrian wrote on Instagram. "Does it matter? Of course not. But it felt special." The two climbers, who want to scale Everest without bottled oxygen, returned to the North Col, "as afternoon clouds try to cross the border from Nepal into Tibet". The weathermen expect for the next few days more snowfall on Everest. Maybe one or the other climbers in the base camps on the north and south side will use the time to read again Jon Krakauer's book "Into Thin Air". It describes the disaster on Everest in spring 1996. The 20th anniversary will be next Tuesday .
I have talked to Ralf Dujmovits about Mount Everest then and now. The 54-year-old is the first and so far only German who stood on the summits of all 14 eight-thousanders.
Ralf, you have taken an Everest sabbatical this year. Did you – like many others – want to see how the whole situation on Everest is developing?


read more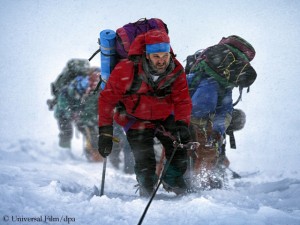 The movie "Everest" works if you consume it as if you were to take a shower outside on a hot summer day: Just let the water flow, don't think too much! Then you'll really enjoy the 3-D dolly shots which were filmed in Nepal: for instance from above down to the suspension bridge that crosses the river Dudh Kosi in dizzy heights near Namche Bazar or the view of the Western Cwm, the "Valley of Silence", above the Khumbu Icefall. In this case you'll likely find the movie's story about the disaster on Everest in 1996, when eight climbers were killed in a storm in the summit area, exciting. And you'll probably stand up from your cinema seat after two hours with the feeling of having been well entertained and seen a cinematic well-made mountain action drama. It only becomes problematic if you take the note at the beginning of the film seriously: "Based on a true story".

read more
Date
4. September 2015 | 12:57
Tags
Boukreev
,
Brolin
,
Disaster 1996
,
Gyllenhall
,
Kneightley
,
Kormakur
,
Krakauer
,
Mount Everest
,
Movie
,
Rob Hall
,
Scott Fischer
,
Watson
,
Wrigth