Search Results for Tag: Travel warning
At last! Many Western governments have now canceled their general travel warning for Nepal that they had imposed after the 25 April earthquake. Instead, they are now only warning not to travel to certain regions of the Himalayan state. So the German Foreign Office called the trekking regions Langtang and Manaslu problematic areas, where access "is not possible or only with considerable difficulties". The British Foreign Office advises against traveling  to these regions too and calls in addition the districts Sindhupalchowk and Dolakha. From the perspective of the German Government "particular caution is advised" when traveling in these or other areas that were hit hard by the quake. The US Department of State notes that "the frequency and severity of aftershocks have greatly diminished", but encourages travelers "to consult carefully with their travel and trekking agencies for current, location-specific information and to heed warnings of potential danger".  All those governments point to a new problem in Nepal – a political one.

read more
Date
10. October 2015 | 23:35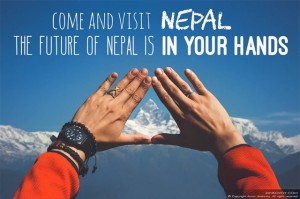 The financial aftershock is probably unavoidable. But it is important to keep the vibrations for Nepal within limits. The fall trekking season is just around the corner, and the government anticipates a dramatic 50 percent slump in tourism. "The number of foreign tourists has declined after the earthquake", says Tourism Minister Kripasur Sherpa. "This is a heavy burden, because tourism is very important for the Nepalese economy and people." The Government points out that international independent earthquake experts have declared the most popular trekking routes in Nepal, the Annapurna Circuit and the Everest Base Camp Trek, for nonhazardous. "Tourists don't take higher risks any more", says Kripasur Sherpa.

read more
Date
20. August 2015 | 16:27
When can you call it normality again after a state of emergency? Obviously it depends on the way of perception. "Nepal is safe, don't worry! This is our clear message for today", said Bhesh Narayan Dahal, head of the governmental department that is responsible for the preservation of the world heritage sites of Nepal, at the beginning of the week. Temples in Kathmandu, Patan and Bhaktapur, which had been badly damaged by the earthquake on 25 April, were re-opened with a ceremony. But even the government seems to feel uneasy about it.

read more
Date
17. June 2015 | 15:39