Search Results for Tag: Tyler Armstrong
For once, I must compliment the Chinese. The country's authorities refused Tyler Armstrong the permit for climbing Mount Everest. As reported, the now 12-year-old American wanted to climb the highest mountain in the world from the Tibetan north side this spring. Tyler and his parents had hoped to get a "special permit" – as already in 2012 for the ascent of Kilimanjaro (5895 m, highest mountain in Africa) and in 2013 for Aconcagua (6962 m, highest peak in South America). But this time the Chinese stood firm. From my point of view, it's a victory for common sense. Everest is no place for children, no matter how fit they are.

read more
Date
13. April 2016 | 16:56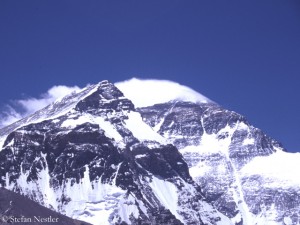 A twelve-year-old boy on top of Everest? Professor Thomas Kuepper can only shake his head. The occupational health and sport physician at the University Hospital Aachen is an internationally recognized authority on high altitude medicine who is also advising the International Climbing and Mountaineering Federation (UIAA). I had asked him what he thinks about the American Tyler, aged eleven today, who – as reported in my blog – wants to climb Mount Everest next spring. "You should file a charge of child abuse", Kuepper wrote back disgustedly.

read more
Date
11. August 2015 | 9:59
Tyler Armstrong wants to break the record. Or do his parents want him to do it? Or all three? Anyway, the family of the eleven-year-old (!) US-American has announced that Tyler will try to scale Mount Everest in spring 2016. Crazy! Then Tyler would be twelve years and four months old – thus one and a half years younger than his compatriot Jordan Romero, who climbed Everest in 2010 from the Tibetan north side and who since that time is registered in the record lists as the youngest climber ever on the highest mountain on earth.

read more
Date
6. August 2015 | 16:35